'Under the Stars' with YouTube artists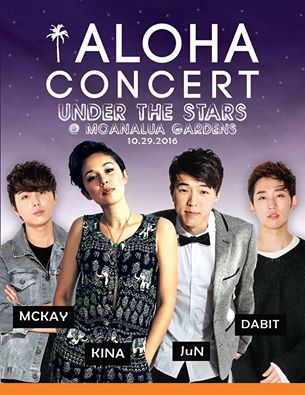 Those in search of a concert experience without wanting to spend the money or brave the crowds might consider attending the Aloha Concert. The annual event in Honolulu brings together artists made famous on YouTube for a live concert event.
This year's Aloha Concert was themed "Under the Stars" and was originally planned to take place at Moanalua Gardens; however, due to weather concerns, the concert was moved to the Manoa Grand Ballroom.
Excited concert-goers looked forward to seeing performances by YouTube singers Dabit & Mckay and Kina Grannis, as well as violinist Jun Sung Ahn. But before they took to the stage, a jazz-influenced band from Mililani kicked off the event.
The Fresh Preps, as they are called, rocked the evening to a spirited start with three original songs; one of which put many into the Halloween spirit, titled "Zombie Song."
Korean American singer and songwriter Dabit showcased a mix of spirited and sentimental songs, leaving fans both excited and touched. He was born and raised in Ohio but pursued his passion for music in Korea.
Mckay, also of Korean origin, was led in by Dabit as they performed a duo featuring Dabit's strong vocals and Mckay's tuneful guitar skills. Mckay showed off his acoustic skills, as well as knowledge of many genres, by performing numbers from Filipino artists to classic Korean songs.
Many concert-goers took interest in violinist Jun Sung Ahn also known as Jun Curry Ahn. Jun performed a number of songs, from TV show soundtracks to popular Korean Pop songs, such as "Awake" by Jin. To conclude his performance, he and local dance group HI Life danced to "Fire" by Korean boy group BTS.
The last act featured award-winning artist Kina Grannis, whose career started from YouTube and worked its way up to a national stage. Performing original songs, Grannis caught the heart of many at the concert, and concluded the night with high spirits.
For more information, visit http://alohaconcertseries.com/.
Leave a Comment
About the Contributor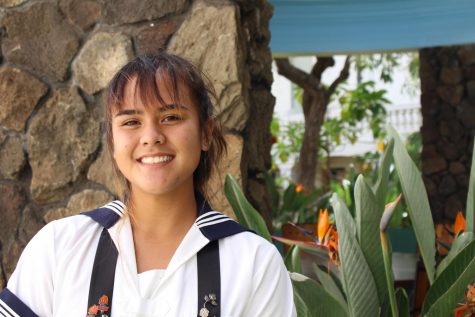 Rebecca Meyer, Features and Sports Editor, Reporter
Rebecca Meyer is a senior and third-year Journalism student. She is also the Features and Sports Editor. Being a journalist to her means being able to...