Being a senior in high school is stressful. There's a lot to think about, especially when it comes to choosing the right college. And with each college having its own specialties to offer, the process of applying can be overwhelming. So why not stick to what you know best and start your post-high school education at home? 
I know many of us in Hawaii might want to leave the islands for college. But what many don't realize is that you can get the same high level of education at the University of Hawaii at Manoa (UHM) as any out-of-state college. 
Here's how: did you know that UHM consistently ranks in the top 1% of universities worldwide? Nationally, it is ranked 57th. To add to its accolades, UHM is designated as a Research 1 (R-1) University by the Carnegie Institute. Only 150 universities across the nation hold this distinction. It is also one of five universities to hold the land, sea, sun and space grant. This means that UHM professors are recognized for their achievements in fields relating to oceanography, astronomy, linguistics, Pacific Island and Asian studies and education, just to name a few. 
When it comes to options for classes, UHM does not disappoint. Although the school is mainly known for oceanography, astronomy and cultural studies, there are also great programs for education, engineering, finance and more. 
When writing this article, I reached out to Kayden Iwasaki, the university's admissions counselor and a former alum. As a student there, his most memorable classes included Religion 150 and Sociology 335. 
Iwasaki said, "These professors knew me by name, interacted with me and were great speakers. They knew how to engage their students in a fun but informative way, and I learned a lot through their courses. They were also hard graders, and I always loved a challenging class that was intellectually stimulating." 
From his response, it is evident that UHM is filled with capable and qualified professors. When I asked him what some of the best classes were, his response was that my question was subjective because every student has a favorite class and teacher. I guess you'll just have to discover for yourself just how excellent the professors are. 
If in-person classes aren't for you, then consider checking out the list of online options. Online classes are good for reasons of convenience or for personal matters. This is also why my sister, Quinn Lum, decided to continue her education online after the pandemic. 
Her classes are hybrid, which means she has both in-person and online classes. While she prefers to learn from the comfort of her home, it is the affordability that made UHM a considerable choice for her.
"My favorite part about being a Hawaii resident going to UH Manoa would be that I am saving my family money. As I have learned, the name of your school means nothing but what you take away from it means everything," Lum said.
The UHM's tuition is $12,186 for in-state and $34,218 for out-of-state students. This is cheap when compared to schools like Portland State University or the University of Oregon. Both cost about $30,000 to $40,000 per year.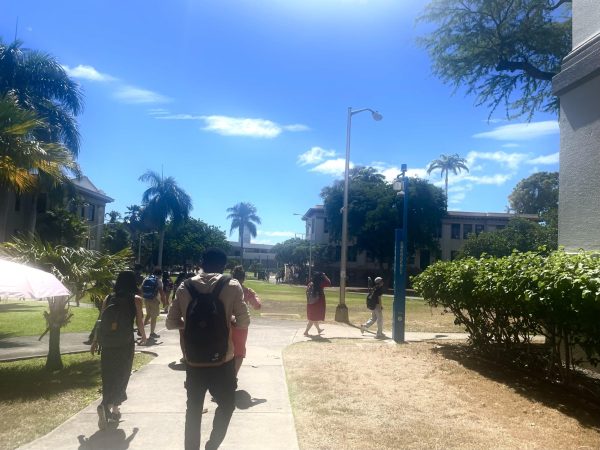 There are endless ways to get involved with your school community at UHM. From student-led clubs to on-campus events, students are encouraged to seek and try new experiences while meeting new friends in the process. There are many clubs to join, including the Animal Science Club, Climbing Club, Disney Ohana Club, Indigenous Student Association and more. 
Additionally, there is a theater on campus, where students can showcase their talents to their school community and beyond. The Campus Board also hosts different events, like pep rallies and concerts, while the Residential Life coordinates different events for those who live on campus. 
Along with clubs, there are also different types of sports and fitness classes. UHM offers co-ed, boys and girls athletic teams. Intramural sports are available to those who want to try a sport without the pressure of competition. Some of these sports include soccer, volleyball, flag football and ultimate frisbee. 
Athletes are often found at the Warrior Recreation Center, which is the impressive 56,000-square-foot training and sports center on campus. It houses courts and workout rooms for students who want to stay fit during their time in college. Students can also try surfing, kayaking and sailing classes. With qualified and certified instructors, the main purpose of these activities is to encourage students to experience their environment and admire the sun, sea and earth around them. 
"One of the biggest reasons students want to go away for college is because they want to get 'off the island' or 'off the rock,'" Iwasaki said. I am one of the many students who want to get off the island and experience other places. However, that doesn't mean I can't go to UHM either. As Iwasaki told me in our interview, UHM can "show you the world." 
By that, he pointed to the extensive study abroad programs. The National Student Exchange (NSE) program is among the most popular. It allows college students in their sophomore or junior year to travel to any university in the continental U.S. for a year. They do this while paying either UH tuition or a price the school sets for the program. 
Another good thing about this program is that if you like the college you've chosen after your year there, you have the option to transfer to that school with the help of UHM and the program. This makes your cumulative cost of college cheaper than staying at a college in the states.
From the impressive list of classes and sports to the fun campus events, there are many reasons to consider UHM. So why not give it a chance when applying to college and think about how fun it would be to become a Rainbow Warrior!