Would you agree that a key component in any relationship, whether it be with a friend or a significant other, is good communication? And if communication plays a major role, why don't many of us use it as often, particularly when texting? 
One can see the increased change of how we, teens, communicate towards each other, as presented by the "Less Talk, More Texting" graph published on the Statista website. As technology becomes more accessible, teens trend on a "fine line" of what healthy communication is. Oftentimes leading teens to read between-the-lines of what might be said through texting. This article will address both negative and positive types of communication, including dry texting and excessive texting. 
Dry Texting
Dry texting is when an individual is short and non-engaged in a texting conversation. This is one of the many negative habits an individual should learn to stay away from. Dry texting can oftentimes seem rude or harsh to the individual on the other end of the conversation, as it shows little to no interest. Sometimes, teens dry text so much that it starts to become a habit. Another theory could simply be that they are not a fan of talking or texting, in general. 
Excessive Texting
Another habit that teens have started to engage in is excessive texting. Excessive texting is when one of the individuals tends to text more excessively or lengthier than the other. This might include multiple text messages before the partner can even respond. 
This could be seen as a red flag in any relationship, as this behavior shows that the individual is "clingy/needy and feeling insecure in the relationship," according to author Sherri Gordon in her article "Understanding the Dynamics of Texting in Relationships." 
"Agree to Disagree" Texting
Just looking at the subtitle, you can tell this has to deal with some sort of debate. Agree to disagree texting is when there's an argument through the phone. This should be avoided at all costs. 
"Not only will you probably regret what you type…(but also, there is) no way your text is going to be interpreted the way you want it to be," states author Gordon.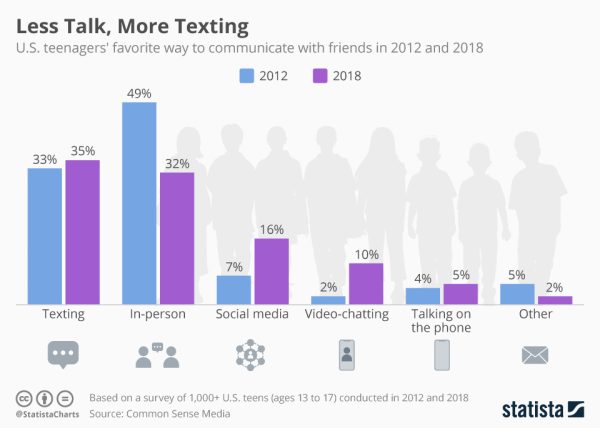 "Wake-Up Call" Texting 
Whenever you are talking to your significant other or your friend, especially if you both live in different time zones, NEVER WAKE UP THAT PERSON with a text! Let them have their beauty rest. 
"It's important to be respectful of their schedules…it's more considerate to wait until regular hours to send someone a text," shares author Gordon in her article. 
Practicing this habit of texting them at a time when they are free will create a stronger relationship. 
If you were to mistakenly text them at a late hour or early in the morning, remember to apologize.
Over-Initiation Texting
Over-initiation texting is when one partner starts the conversation more often than the other. This trait is a negative habit. It leads the other partner to believe they have no needed responsibility in taking ownership of starting the conversation. 
Questionable Texting
Naturally, when making conversation, you might ask the other person questions about themselves or their day. It is among one of the healthier habits of communication. But it begins to become toxic when you start asking too many questions, creating a questionable habit. This leads to questionable texting. 
Questionable texting is when an individual continuously asks multiple questions, causing their partner to feel like they are being interrogated. 
"Too Many Faces!" Texting 
Today, us, teens, rely on using emojis in place of actual words when texting. More often than not, emojis are used for the good, whether you're playfully flirting with your partner or expressing your feelings in a way in which you don't sound rude or harsh. There are other times when a partner might feel you are using too many emojis. Emojis might even be misinterpreted.
"Your partner might send a thumbs up…(which might mean) they aren't paying attention," says divorce attorney Corri Fetman in an article titled "5 Red Flags About the Emojis Your Partner is Texting." Emojis might be "used too often to end the conversation because they are tuning the other person out," she says.
In the end, despite what type of texting happens, the bottom line is that "each partner should speak honestly and openly to avoid miscommunication," as stated in "Characteristics of Healthy & Unhealthy Relationships." As much as we try our best to have those #CoupleGoals, relationships aren't always going to have the fairy tale ending we intended or hoped for. It's the actions that both partners need to take that will better stabilize their communication. 
Hopefully this article has taught you a few things on how to better reach out to your partner, while learning to read between-the-lines.