For the first time in almost three decades, a student from Sacred Hearts Academy won the Distinguished Young Women (DYW) Program, the largest scholarship program for young women. Senior Madison Iwashita was named Distinguished Young Woman of Hawaii 2024 and earned the Scholastics Award and Interview Awards. Additionally, senior Reagan Beissel also won several awards, winning the Spirit of DYW award and the No'ono'opono Award.
The program took place at the Academy last month, where along with their awards, the two seniors also won scholarship money. Iwashita won a full ride to Hawaii Pacific University (HPU), as well as $6,500 for other possible colleges. Beissel won $1,000 and plans to use it for college. However, she's also looking for other opportunities to fund her education, as the DYW program has partnerships with colleges across the country. Upon receiving their awards, the seniors were shocked.
"It was kind of like a surprising moment on stage because I really didn't expect to win," Iwashita said. "But I'm really glad that I can represent Sacred Hearts in the program, and I'm glad to bring the trophy back to Sacred Hearts." 
Beissel was also surprised, as both of her awards were based on how she treated others in the program.
"(The) biggest impact I want to have on people this year is being kind and showing kindness to them," Beissel said. "So receiving these awards meant I was on the right track…I was really grateful…to have received them."
For Iwashita, this was her first time participating in any scholarship program or on-stage contest.
"While there are some aspects of DYW that may be similar to those in pageants, such as the talent and self expression portions, the mission of DYW and majority of the experience was much different than what I would expect in a pageant," Iwashita said. "DYW really puts a focus on scholastics and interview abilities, in addition to being composed and engaging during the program."
In the future, Iwashita hopes to major in international relations and wants to continue her studies of Japanese language and culture as a possible minor or second major. She also plans to attend Georgetown University in Washington D.C. and hopes to become a U.S. diplomat in East Asia. Beissel plans to attend Vanderbilt University in Nashville, Tennessee to become a biomedical researcher.
Founded in 1958, DYW is the oldest and largest national scholarship program for high school girls. They provide young women with skills that will help them in life after high school. The program has drawn more than 780,000 women to compete and has awarded $118 million in scholarships to them as well. 
"The Distinguished Young Women has been a scholarship available to all seniors in the state of Hawaii for the past 65 years," Academy Counselor Ashley Luke said. "The Academy has had participants through all those years and has had many students win scholarships, as well as be the overall winner."
"The program is rooted in helping young women 'be their best self,'" Luke said. "Participants gain invaluable skills to help them throughout their whole lives. They participate in fitness workshops, the annual leadership forum and public speaking. The goal is for participants to be empowered to pursue their passions and to be proud of who they are."
For the two seniors, the program gave them an opportunity to not only earn scholarship money but to show the fruits of their labor and to gain new skills as well. 
"I wanted to show how I had built myself up and worked so hard all these past couple of years," Beissel said. "And I wanted to use that as much as I could to gain scholarship money for college." 
The DYW program is available to students nationwide.
"However, you do have to be accepted," Beissel said. "You are graded on your GPA over the past three years, fitness, your onstage presence (and) your self-expression, and you have to do an interview, as well as a talent portion." 
The talent portion is different for everyone, as Beissel and Iwashita's talents were vocal and contemporary dance, respectively.
As for Iwashita, she joined to gain extra college scholarship money, but after learning more about DYW, she said that she understood what she could gain from the program. 
"In the program, there were a couple different components and throughout the summer, there were workshops where we could work on certain parts, like the interview and self-expression," she said.
As the Distinguished Young Woman of Hawaii, Iwashita will be headed to Mobile, Alabama for the National DYW Program in June and is looking forward to representing the Academy.
"First and foremost, I am proud to represent Hawaii in Alabama next year, and through my time at DYW, I am excited to bring the culture of (the) community that I have been raised in," Iwashita said. "Additionally, I get to represent Sacred Hearts, which has been a crucial part of my growth as a student, friend, daughter and leader. Through the talent portion, I am able to share my love for dance, and I hope to be able to showcase my passion for other activities that have been meaningful parts of my identity, such as paddling and community service." 
However, Beissel said she doesn't plan to participate in any other scholarship competitions.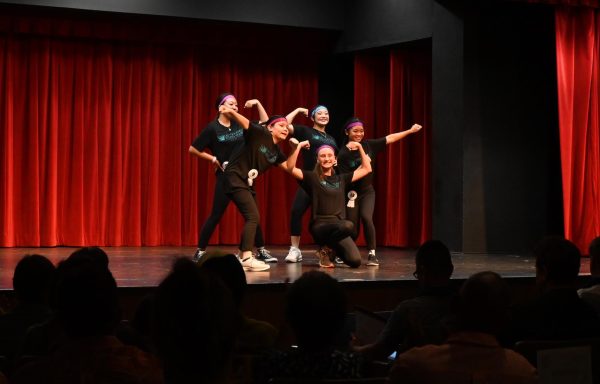 "Though I greatly enjoyed my time at Distinguished Young Woman, one of the reasons I participated was because it was over the summer because due to all the extracurricular activities I'm doing this school year, it would be harder for me to participate in activities like that…but I'm definitely going to be applying to any other program or any other opportunity to gain scholarship information for college."