B.I.O.N.I.C. Lancers show they care
B.I.O.N.I.C. Lancer, which stands for Believe It Or Not I Care Lancer, is a team of Sacred Hearts Academy students that reaches out to peers who might be facing challenging times.
"I think all students can benefit from the B.I.O.N.I.C. team. Right now, our focus is new students and first-year students, so we can see where they're at as far as their transition," counselor and B.I.O.N.I.C. adviser Annaliza Miyashiro said. She learned about the organization at a national conference.
Freshman Carlee Lomavita is a first-year student at the Academy. She transferred from a co-educational school and has already received support from the student-led team.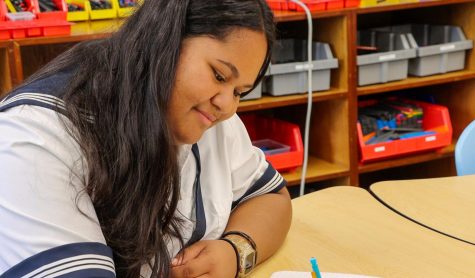 "B.I.O.N.I.C. has really helped me have people to rely on and kind of trust while moving to a new school," Lomavita said.  "And they kind of gave me people to really communicate with and just made me feel comfortable."
For some students, anxiety and depression can impact their social abilities. Transferring to a new school means some adjustments need to be made.
"New students typically have difficulty with adjusting to the academics of a new school," Miyashiro said. "Sometimes, the rigor of the academics is much more than where they came from. They also have difficulty socially because they're coming into a new environment. They have to make new friends." 
Since the start of the COVID-19 pandemic, schools have seen an increase in mental health concerns among their students. Seventy percent of public schools reported an increase in the percentage of their students seeking mental health services at school, according to the National Center for Educational Statistics.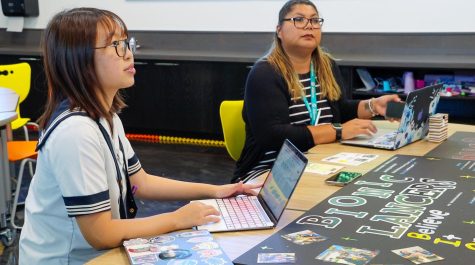 Senior Miki Cheung, who was new to the Academy last year, is now a part of the B.I.O.N.I.C Lancer Team. 
"I believe every new student feels insecure when they come here to study, so I feel like B.I.O.N.I.C really will help everyone… get closer to each other and to…get away from all the stress," Cheung said. 
The team hosted a social for new students in September. Members had lunch with the new students and prepared activities for them. Lomavita, who attended the social, said it was a great way to meet new students.
"When new students come, it's kind of stressful for them," she said. "It (gave) them a chance to relate to the other new students coming (to the Academy)."
The B.I.O.N.I.C Lancer Team plans to host more activities and events throughout the year. These include sending birthday cards to students every month, delivering flowers to students who have experienced the loss of a loved one and hosting Walk and Talks during school day breaks. Walk and Talks are when members chat with students who might be sitting by themselves.
In order to make these events a success, the team relies on donations of supplies and money. Miyashiro said it is their biggest challenge so far but is grateful for what they have received so far.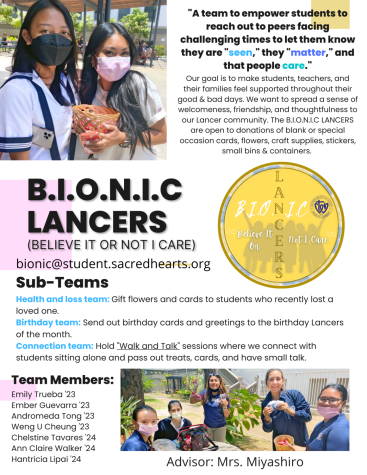 When senior Rory Redila experienced the loss of a loved one earlier this school year, the B.I.O.N.I.C Lancer Team sent her flowers and a card. 
"It feels good because I know that my own classmates are there for me, even though they might not know what happened," she said. "Just being there as support is enough."
Though the school year just started, the B.I.O.N.I.C Lancer Team has already made an impact on a number of students.
"I think it's important for new students to have a club like B.I.O.N.I.C by their side because it gives the new students people to rely on…and just an environment to feel comfortable in," Lomavita said. 
BIONIC Lancers, which stands for Believe It Or Not I Care, is a new group at Sacred Hearts Academy that supports students in need.
Leave a Comment
About the Contributor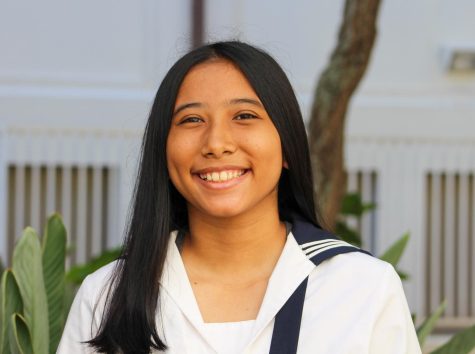 Jaime Tumbaga, Reporter
Jaime is a third-year journalism student and a junior at the Academy. This year in journalism, she hopes to learn how to connect with her peers and tell...