Big Bang tour stops in Hawaii
Those who live in the Honolulu area probably heard loud music and screaming fans this past weekend. It was mostly likely coming from the Neal S. Blaisdell Center, where Korean Pop fans swooned over South Korean boy group Big Bang.
Sacred Hearts Academy students were among the sea of K-Pop fanatics.
"I've heard a lot of fans worldwide say that Big Bang has one of the most incredible concerts, and I'm happy to say I experienced that," sophomore Ragelle Lumapas said.
This was a first for not only Lumapas but also the group itself, as it had not previously performed in Hawaii.
To get fans excited for the concert, music videos of the group played shortly before members made their appearance on stage. The boys were then introduced and welcomed by the packed arena. Being the first K-pop group to sell out in Hawaii, both the fans and members were excited to interact with each other.
The concert started off with a welcome by each member and what they were looking forward to. A series of short games were then played, including limbo and musical chairs. Couples' jump got the crowd riled up, as each band member was paired with a concert-goer, whose seat was chosen prior to the show.
The concert kicked off with a well-known song from the group's "MADE" album, titled "Loser." This showcased each member's vocal abilities and sentimental side. Other songs performed included: "BAE BAE," "Bad Boy," "Sober," "If You," "Good Boy" and "Bang Bang Bang."
In between group performances, each member performed solos of their own songs, leaving fans excited to cheer on their favorite member as they performed.
The night ended with a farewell from each member and the performance of "Fantastic Baby." Fans were also showered with confetti.
The excitement didn't stop there. Outside of the venue, many concert-goers continued to chat about their favorite moments. And as they left, one by one, with concert memento and big smiles, many would agree that their Big Bang concert experience is one they will never forget.
Leave a Comment
About the Contributor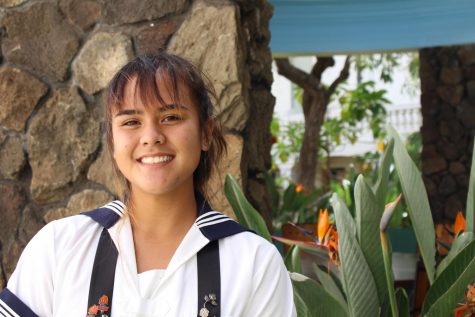 Rebecca Meyer, Features and Sports Editor, Reporter
Rebecca Meyer is a senior and third-year Journalism student. She is also the Features and Sports Editor. Being a journalist to her means being able to...