Academy celebrates legacy of 105 years
Janelle Medrano, Reporter
September 15, 2014
Hang on for a minute...we're trying to find some more stories you might like.
Sacred Hearts Academy celebrated its 105th birthday on Sept. 12 with a fun-filled morning assembly involving the the entire school.
Academy cheerleaders started the assembly with cheers, pumping up the crowd and showing school pride. The Saint Louis Band also joined the school celebration, performing several songs throughout the assembly.
Junior Geena Bruno said, "The spirit assembly definitely made me excited and pumped up for the day. It made me more enthusiastic about school and it greatly contributed in showing my school pride."
Homeroom spirit representatives participated in a game called "Shake it Off," where students dressed up in sticky notes with the objective of shaking off all the sticky notes from their bodies.
Teachers and students also vied in a dance competition, dancing to many songs, including the "Macarena," the "Electric Side," the "Harlem Shake" and "Teach Me How to Dougie." The competition was a close one, but in the end, students won the dance-off.
Junior Nia Fernandez said, "The dance-off was my favorite event of the assembly because it involved both the students and teachers. It was also entertaining for everyone and it got everyone excited."
The Student Council had a surprise finish for the assembly where they performed a special dance. During morning recess, Student Council provided students with delicious birthday cupcakes.
Toni Normand, Director of Student Activities, said, "Students were allowed to wear any Sacred Hearts Academy t-shirt because it was a great way to show our Lancer pride! The Student Council worked really hard on the birthday celebration and it was absolutely one of the greatest assemblies we have had."
About the Writer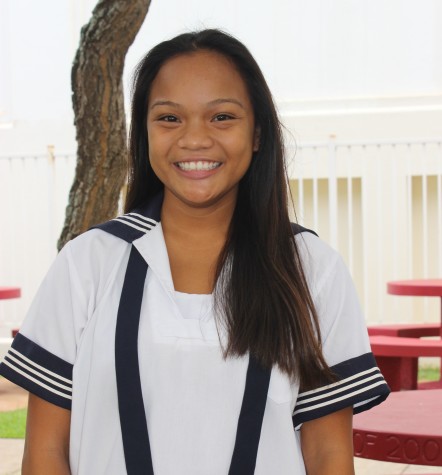 Janelle Medrano, Editor-in-Chief
Janelle Medrano is a senior and a third-year member of the Ka Leo staff. She enjoys dancing, hiking, snorkeling, and pogo-sticking. In her free time, Janelle...