Students rise to top in Nene Award Contest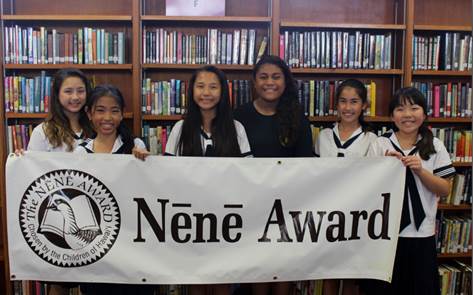 Mariko Galton, Reporter
March 9, 2015
Filed under Archive
Hang on for a minute...we're trying to find some more stories you might like.
Students in grades 5 and 6 took top honors in the Nene Award Student Contest for videos, essays and art based on the award-winning Nene book, "The Strange Case of Origami Yoda."
In the Persuasive Digital Media category, sixth grader Carolei Edra created a movie  based on the most important scene in the book.
Edra said, "'The Strange Case of Origami Yoda' inspired me to create this movie. Without it, I wouldn't have been able to do it."
Sixth grader Kelly Thieu, the only state winner in the Interpretive Essay category, did an excellent job creating a new scene for the book.
Thieu said, "When I found out that I won, I couldn't stop smiling and jumping around. I felt like I had won the lottery!"
Emma Kauhane, sixth grade winner in the Interpretive Digital Media category, created a new scene that could have been placed in the book.
Kauhane said, "When I found out that I had won, I felt excited because it was the first time I had won a statewide competition."
Fifth grader Ayla Hakikawa, sixth graders Annika Lindberg and Rachel Huang received honorable mention in the poster category.
Across the state, 12 schools participated in the Nene Student Contest with more than 203 entries submitted.
Sacred Hearts Academy will host the 51st Annual Nene Award student contest on Apr. 9.