Golden Girls take home the gold
Sacred Hearts Academy's varsity cheer team, dubbed the Golden Girls, placed first at this year's Hawaii High School Athletic Association (HHSAA) state-cheerleading championships in the Medium Division.
"The best thing about their performance was being able to see their heart on the mat," Coach Cadey Vakauta said. "To perform the way they did is something a coach cannot teach. It came from deep inside their hearts, and everyone in the arena could feel it."
Schools with small numbers of participants enter the Medium Division; larger teams enter the Large Division.
"We've been practicing for this competition since the beginning of summer," sophomore Kayla Oka said. Oka has been cheering for the team since seventh grade. This was her first year on the varsity team.
Prior to this competition, the Golden Girls were invited to attend the HHSAA competition after winning the last Interscholastic League of Honolulu (ILH) competition. This occurred two weeks before states.
The seven students that make up the varsity team are closely knit with one another, Vakauta said. They participate in team bonding events.
"The most memorable team bonding (activity) was when we went on a scavenger hunt in a party bus," Oka said.
The win was a big honor for the team to take home. Although in the face of victory, the girls had to show grace to their competitors.
"When my team and I received the results we were really happy we brought it home and beyond blessed for this opportunity," Oka said.
"Their victory made me so proud to be their coach and blessed to be a Lancer," Vakauta said. "I'm so happy they could bring it home for our amazing school. I remind my girls to always be thankful (because) it is a privilege to be a Lancer."
Leave a Comment
About the Contributor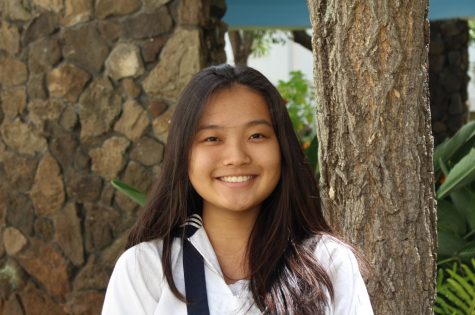 Noe Nekotani, Opinions Editor and Webmaster, Reporter
Noe Nekotani is a senior fourth-year journalist/webmaster/opinions editor for Ka Leo. In her free time, she enjoys listening to music, yoga, and hiking....