A ticket to your future: 5 reasons you should consider going abroad for college
Imagine exploring ancient ruins or discovering a love for Shanghai cuisine. If you're struggling to find a college that fits you, here are the top five benefits of choosing a college out of the country. 
The college decision process is full of questions. Should I go to the east coast or the west coast? Leave for a public university or a private college? And one of the biggest questions students must grapple with is: should I stay home or leave? Often this question is focused mainly on the decision to stay home on the islands or leave for the continent. 
However, there is also another option you could consider: studying abroad. Studying overseas has many benefits and exciting opportunities. Imagine exploring ancient ruins or discovering a love for Shanghai cuisine. If you're struggling to find a college that fits you, here are the top five benefits of choosing a college out of the country. 
A ticket to a new worldview 
In a world that is more connected than ever, an open-minded appreciation and knowledge of various cultures is crucial. Living in a foreign country opens your eyes to new viewpoints and unique ways of life. You can broaden your understanding of different people and cultures by studying and living abroad. Most importantly, you can gain a vast perspective on today's global issues. Learning in an international atmosphere will challenge your assumptions and introduce you to other ways of thinking about the world.  
If you wish to work in an international workplace, seeing how different cultures and ways of thinking approach problem-solving can be particularly beneficial. You develop greater independence in your learning by being exposed to a new academic culture while studying abroad. However, outside of the classroom, you will have plenty of opportunities to immerse yourself in the local culture and sample new foods, participate in thrilling events and learn about fascinating customs. 
Travel the globe of opportunities 
Uprooting yourself and starting fresh in a new place is daunting! You may even think that going abroad would interfere with your career prospects when it's quite the contrary. When done correctly, international learning can advance your skills and teach you new things. Having an international experience to boot is actually desirable in the current globalized job market. And what better way to gain international experience than by studying in another country? In fact, according to research conducted by IES Abroad, 90% of students who study abroad found work within six months after graduation, compared to only 49% of the general graduating population. Study abroad students also receive a starting salary that is $7,000 higher, on average, than their non-study abroad counterparts. 
You can also benefit from gaining a new, global viewpoint in your field of study and help you long-term with acquiring knowledge to help in your future career. Savanna Peng, a graduating senior at Sacred Hearts Academy, will attend an international school in China and plan to major in business. Peng believes that education abroad has "endless opportunities" and anticipates that studying in a different country will be an "incredibly eye-opening" experience. Traveling abroad has been a longtime goal for Peng.
"I have always envisioned myself to live in an urban area, working in a leadership position and living a fast-paced lifestyle," she said. Through immersing herself in an international environment, Peng aspires to learn skills that would help her in her desired career. 
Be a bilingual boss 
Now that we're on the topic of "hireability," learning a second language can vastly improve your job prospects. One of the most effective ways to learn a language quickly and efficiently is immersion, which luckily is something you would not have in short supply while abroad. Now has never been a better time to acquire a second language. Demand for bilingual workers has more than doubled over the past five years, according to newamericaneconomy.com. 
But don't just take their word for it; here's Nami Shibuya Grafia, also called Nami Sensei. She's head of the Japanese language department at the Academy and has first-hand experience as a bilingual worker. 
"Many wonderful people and opportunities are around you, if you don't recognize them, there is none," she said. "Many wonderful people and opportunities are around you; if you are not ready, you cannot connect. To recognize and to connect, you need a tool. Bilingualism is the tool to expand your opportunities and enrich your life in this global society."
Abroad on a budget    
It's no secret that the United States is home to some of the most expensive universities in the world. When it comes to student debt, the U.S. also tops the list, having a "record breaking $1.73 trillion in student debt," according to cnbc.com. The high cost is true whether you decide to study at a private or public university. A study conducted by valuepenguin.com found that public universities can cost a student $20,000, including room and board. Private schools cost even more of a pretty penny and can approach a whopping $50,000. With these staggering prices, you're sure to find programs abroad that cost much less than their U.S. college counterparts.  
Avoiding these high prices was also a motivating factor for Peng when choosing where to go for college. At the beginning of the application process, Peng considered Hong Kong and England colleges because both are "great places to study business, as they are economically advanced and filled with opportunities." 
"England (colleges) would only take three years to receive a bachelor's in the major I want," she said. "If I want to continue with a master's, it would take me only one extra year too. It would be convenient for me to study in China, as my family is there. Food and travel expenses would also be cheaper."  
Many international colleges offer high-quality education at an affordable cost and can be a practical option for graduating high school seniors looking to avoid student loan debt. If you're just starting to venture towards international colleges, 23 Overseas Colleges Cheaper than U.S. Colleges, written by Elyssa Kirkham, is a great article showcasing the variety of affordable colleges worldwide that cost much less than U.S. colleges.
Taking off to a new you
This is your senior speaking; next stop, college! Embarking on this ride is a big step, and so is choosing to leave the "station," you know, and go somewhere entirely new! I chose an international college not just for the reasons above but also to experience the challenges and growth of going out of my comfort zone. While I am fortunate to attend college with a friend from Hawaii, college away will not come without challenges. HopeMarie Cosseboom is also a graduating senior hoping to study environmental engineering at an international school in Tokyo, Japan. Before visiting the campus in March, Cosseboom was concerned about how "cultural differences would affect my college experience." However, while visiting, Cosseboom was able to meet some people that "share my experiences, and that gives me reassurance that I'll be able to find community at this university." Going abroad for college, you will encounter challenges. You may even feel uncomfortable in a new environment, but you can gain confidence by pushing yourself to seek this growth. 
Leave a Comment
About the Contributor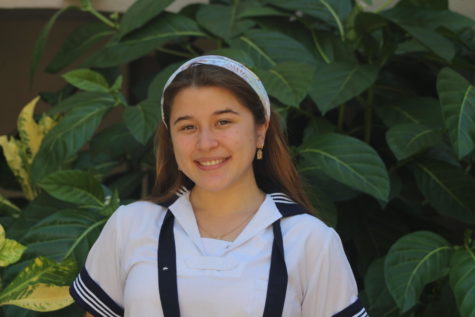 Ella blu Pakele, Reporter
Ella blu Pakele is a third-year Journalism student in her senior year. During her free time, she enjoys reading, trying new recipes, and going to the...