From 'Aladdin' to Academy: Alumna brings Broadway experience to classroom
From the stage of Saint Louis School's Mamiya Theatre to Broadway stages across the country, Sacred Hearts Academy alumna Kaena Kekoa today finds herself on a different type of stage – that of the classroom. 
"When I graduated from high school, I knew I wanted to eventually come back to (the Academy) to teach," said the 2014 graduate and now choir and drama teacher. "My transition…was pretty smooth. I taught at a small, Christian school when I moved back home, so the classroom setting wasn't foreign territory."
Kekoa returned to the Academy two years ago, after starring as Jasmine in the North American tour of Disney's "Aladdin" Broadway musical. She brings years of professional experience to the all-girls school.
For junior Andromeda Tong, a performer herself, having Kekoa as a teacher is one of the things that alleviates the stress and hardships that school can bring.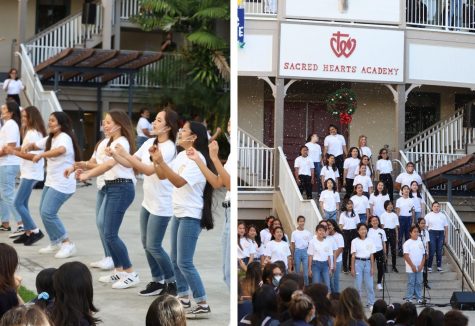 "My teacher is a star," Tong said. "It's inspiring to work with someone who's been on Broadway. It makes you think that maybe you could also pursue the arts after (graduating from) school." 
Tong, who regularly sings at local events, was part of the Academy's winter choir concert this year.
It was the first campus show, with an in-person audience, since the COVID-19 pandemic. It was also, many said, a lot like a Broadway musical of its own. The show included a decorated holiday set, artificial snow showering performers and Lancers dressed in elf and Santa costumes.
"Kekoa has brought a fresher approach to choir this year," said Tong, referring to the more contemporary take on a choir concert.  
Remembering Lancer life
Although Kekoa directed the concert alone, her family assisted with the winter school production–from operating sound to taking photos. 
This was reminiscent of her senior year at the Academy. Kekoa had been invited to direct the musical comedy "The 25th Annual Putnam County Spelling Bee." Her family was right by her side.
"From lighting to directing to…costumes…you name it, everyone had a job to do," her father Kordell Kekoa said. "With that kakou spirit, we were able to watch her dream become a reality."
Directing the musical was among Kaena Kekoa's favorite high school memories as a Lancer of the Academy.
"I casted my best friends in the show, (and) we rehearsed every day after school in the auditorium," Kaena Kekoa said. "I was able to put on a full-sized production with the help of my ohana and the school."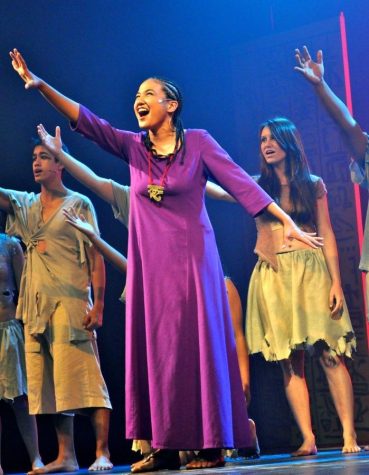 Kaena Kekoa attributes her success to her high school mentor, Kyle Kakuno. As the managing director at Saint Louis School's Mamiya Theatre, Kakuno has helped produce many student shows. 
"It was wonderful to work with Kaena as a student," Kakuno said. "It's not only because of her amazing talent, but because she's intelligent, easy to work with and selfless. That's a rare combination."
Kakuno, who continues his role at Mamiya Theatre, recalled attributes that helped Kekoa stand out as a young performer. Attributes that, he said, can't be taught because "it's just there in some people."
"It's some kind of burning desire that you see in only a few people," he said. "Not just a burning desire to succeed; it's a burning desire to improve, to do things the right way…I've seen it in only a handful of students over my 30 years of teaching, and each one of them became professional artists."
Throughout high school, Kaena Kekoa dedicated all of her free time to performing arts. She took theater very seriously during this period of her life, as it became more than a hobby. 
"My teachers always knew when I was in a show because my grades suffered a bit," she said. "It was difficult for me to keep up my grades when I was in a show because I was probably a little too committed to learning my lines, blocking (and) choreography." 
Experiencing a 'Whole New World'
In 2019, Kaena Kekoa landed the role of Jasmine in "Aladdin." She auditioned for "Disney on Broadway" when the musical production company stopped in Hawaii. A day after her final callback in New York, Kaena Kekoa got the good news.
 "I was overjoyed and couldn't stop thanking God for the opportunity He presented me with," she said. "I was doing the job of my dreams."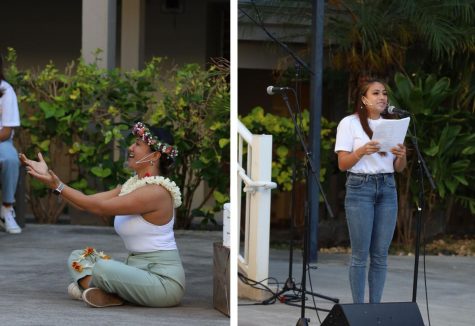 "The odds are stacked against you as an actor and especially as an actor of color," Kakuno said. "To debut on Broadway is to truly beat one in a million odds. But it's appropriate because she's a one in a million person."
Despite living her childhood dream, the Broadway experience also provided challenges for the young performer. From "how to book hotel rooms…to finding dinner at 10:45 p.m.," she said that she "was exhausted physically and mentally." 
The start of the pandemic in 2020 put a halt to the national Broadway production. 
Throughout her journey to and from the Academy campus, those close to her say she thrives on whatever stage she is on.
"I appreciate how hardworking Ms. Kekoa is. She puts a lot of work into choosing our songs for the semester, planning out our concerts and teaching us music," Tong said of her teacher. "Being able to have this (choir) community and having a wonderful teacher like Ms. Kekoa is one of the things that motivates me to come to school."
Leave a Comment
About the Contributor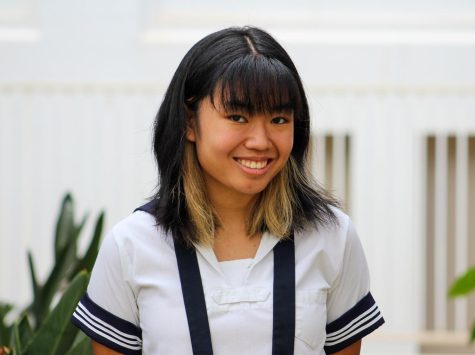 Carlee Marcello, Reporter
Carlee is a second-year journalism student and a senior at the Academy. As a veteran of Ka Leo, Carlee hopes to not only expand her experience as a journalist...