New perspectives from faith followers
Hang on for a minute...we're trying to find some more stories you might like.
World Religions classes had first-hand views through presentations  by representatives in the fall semester.
Teacher Lynn Fonseca said, "Although it would have been awesome if we had visited each guest speaker's place of worship, the guest speakers were gracious to share their faiths with the class. The ultimate purpose of inviting them to speak was to have students see and hear people who worship differently rather than just read a book. "
Guest speakers included representatives from the International Society for Krishna Consciousness (ISKCON) Hawaii, Tibetan Buddhist Meditation Center, Mililani Hongwanji Buddhist Temple and Izumo Taishakyo Mission of Hawaii.
Senior Kayla Galima said, "It was a special experience to hear background information and stories about the religions practiced by the guests who visited. I loved seeing the excited and proud faces of the guests when they spoke about their beliefs. Our class not only got to learn about other religions from our textbook but also from active practitioners, which made the experience better."
Students enjoyed the visits and gained insight into the different religions.
Senior Ruoyi Wang said, "This was my first time learning about the Hare Krishnas. I had no idea who they were or  what they believed in. It was very interesting to hear stories about their beliefs and how they have a special loving relationship with their Lord Krishna. The speaker also brought musical instruments and taught us how to chant the Hare Krishna Maha Mantra."
Guest speakers told about the origins of their religion and shared personal stories, including the reason they chose to practice the specific religion.
Fonseca said, "Religion has a commonality in some of their beliefs but also big differences. Sometimes the unknown brings on fear and as one learns about the different religions, a person doesn't have to believe in that particular religion but it should make for understanding and respect for one another. They don't expect any converts but just the willingness of listeners to open their minds to all who want to learn."
About the Writer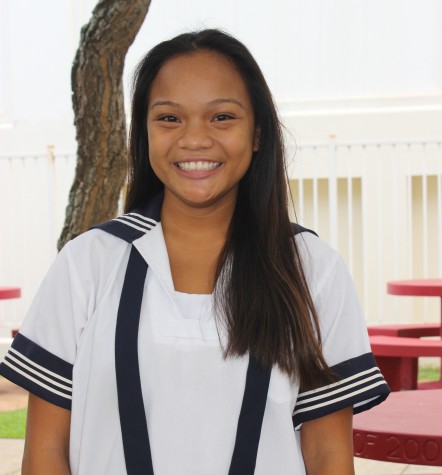 Janelle Medrano, Editor-in-Chief
Janelle Medrano is a senior and a third-year member of the Ka Leo staff. She enjoys dancing, hiking, snorkeling, and pogo-sticking. In her free time, Janelle...