Class of 2023 returns to a normal high school year
The pandemic has affected everyone – especially students from the class of 2023. They were near the end of their first year of high school when COVID-19 struck not only the world but their experience in high school as well. Now in their senior year, the class of 2023 can finally experience what they're calling a mostly normal high school year. 
For Punahou School senior Hayley Kawai, Sacred Hearts Academy senior Carlee Marcello and Saint Louis School senior Zander Woolsey, COVID-19 greatly impacted the beginning of their high school years. 
When COVID-19 started to impact Hawaii, places shut down, including schools. This meant that students learned online through Zoom instead of going in person. 
For Kawai, she was excited to go completely online because it was like a break and, in a way, liberating. However, the experience soon turned negative for her.
"It felt much more restricting as time went on," Kawai said. "When I started sophomore year, we were still completely online, and I started to realize how it was negatively impacting me." Being stripped of a normal high school environment and interaction with others, Kawai realized she started to lose motivation to do school work. 
Returning to campus a few months into her sophomore year was a different experience because her school schedule was much different than her schedule before COVID-19. Her new schedule, and with pandemic rules in place, limited social interaction with her friends had affected her workload, making school more stressful. 
However, Woosley had both a negative and positive experience at the start of the pandemic. Woolsey enjoyed being online at first because there was no homework; there was also less drama between people. 
"It was like a break that everyone wanted," Woolsey said. Not going to school and having the two weeks of break before schools started using Zoom, Woolsey could watch movies and play video games whenever he wanted. 
Woolsey later realized that COVID-19 was affecting his grades and social life. He, like others, was stripped of having social interaction.
"I was lonely, lonelier than I'd ever been," Woolsey said. "But I really just wanted to see my friends. I wanted to go out and see things and be with people."
The pandemic also affected Woolsey's learning because being online made it difficult to pay attention, being tempted by using his phone, watching TV or playing video games. 
When returning back to school, Woolsey noticed how the pandemic affected everyone, especially his classmates.
"It's like everyone forgot what to do," Woolsey said. While this is Woolsey's personal experience, there is a reason why students seemed to not know how to act when returning to school.
An article by Child and Adolescent Behavioral Health (C&A) explains how school provides students with structure and routine. 
"Following the routine of getting up at a certain time, going to classes at specific times and coming home at a certain time provides a sense of normalcy in their lives," the article states.
The article explains how school is a sure way for students to interact with each other, whether it be in class or at lunch. Because of the pandemic, this definite way of being able to interact with your friends was taken away, which is what Woolsey previously shared.
Returning to school also came with new procedures, like taking one's temperature, sanitizing before and after each class and wearing a mask and face shields when eating, which was something no one was used to or familiar with. 
Marcello had a mostly positive experience with the pandemic. Marcello had her best grades being online for her sophomore year, as teachers seemed to be more understanding when grading. Her social life was not greatly affected, as she used technology to not only stay in touch with her friends but also meet new people online. 
While the pandemic did help Marcello in some ways, some aspects were negative. Marcello had trouble staying in her Zoom classes or being able to understand the teachers due to Wi-fi problems. In her sophomore year, Marcello got so used to being online that going back to school in her junior year was difficult. 
"Due to me getting used to being online and not having extracurricular activities, I had a hard time managing everything in my junior year," Marcello said.
As things return to normal, certain emotions are brought to the surface, particularly in being able to experience at least one normal year of high school. For one, there is a feeling of sadness, especially from Kawai.
"Although it truly is so much fun, it does make me a bit sad knowing that we missed out on these experiences over the past three years," Kawai said.
Kawai also expands on her feelings of missing out on that adored high school experience. 
"Although there were a lot of positive experiences and memories that came from our COVID-adjusted schedule, it doesn't make up for the time that was lost due to quarantine. We were never given a full, normal year of high school, which is an experience I feel everyone should have," Kawai said.
While there is that feeling of sadness among the three seniors, there is also a feeling of contentment and realization that, to a certain extent, the pandemic affected them in positive ways. 
It helped Woolsey to see that he needs to and wants to make the best of any circumstances and his life. 
"It taught me to live in the moment and appreciate what's all around me because one day it could be taken away, and you won't have the option to go back," Woolsey said.
"Even though my circumstances were rough, I was still able to have a good time for the past four years," Marcello said. This shows that despite the pandemic being a difficult time, there were still ways for Marcello to get the most out of high school and the experience.
Kawai also shows gratitude for having at least one normal year of high school. 
"I'm thankful for the chance to have a normal high school experience for the remainder of my senior year," Kawai said.
While the pandemic and online school were a struggle academically and socially, especially for the class of 2023, it was an experience they could learn from.
Marcello says, "Although, I am sad that I didn't get the experience most people get, I don't look back at my high school years with sadness."
It is important for students, especially for the class of 2023, to not regret or live in the past. Continue forward and make the most of the rest of your high school career and reflect on your COVID-19 experience to find valuable lessons to use not only as you continue in the last stretch of high school but in your life as well.
View Comments (1)
About the Contributor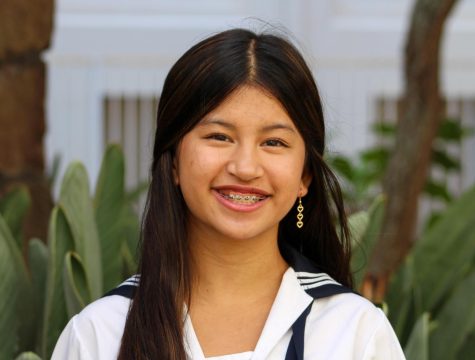 Anna Casupang, Reporter
Anna is a first-year journalism student and a sophomore at the Academy. This year, as a student reporter, she hopes to improve her writing and connect...