Expanding horizons through a cultural exchange
"Jumping into different cultures and using unfamiliar language gives us high anxiety. The best way to overcome this nervousness is to experience, practice and get used to using the language we learned with others," Sacred Hearts Academy Language Department Chair Nami Grafia said. 
Academy students did just that with a recent visit from Ikue High School, an all-girls school in Japan. 
The inspiration behind the social gathering amongst Academy students and students from Japan started back in 2016. 
"I connected with UH (University of Hawaii) and other schools that have Japanese international students in town and invited them to learn and build their skills together," Grafia says. 
She explains that the intent of the program was to strengthen the language of her students by breaking down a fear of miscommunication that students may encounter in conversing with native speakers. Within the first few weeks of the second semester, the Academy was able to continue this practice when welcoming the students who traveled from Japan onto their campus.
"Going through this experience, students are able to learn how they react to being in an unfamiliar situation and how they adjust to the situation. Flexibility, awareness, language and culture application skills enhance through this activity," says Grafia. 
The goal of the program is encompassed in the values of  "the 5 C's": Communication, Culture, Connections, Comparisons, and Communities. Grafia explains that these values, aimed to be upheld in language education, are best accomplished in collaborations.
 From a student perspective, jumping outside of their comfort zones from this experience allowed for language learning implemented in studies to come to life. Jetaime-Tihani Tajiri, a junior within the Japanese language program, shared her experience while attending the program. 
"I was scared at first because my Japanese speaking skills aren't the greatest and I knew they would be very skilled in English. But, once we met them and got comfortable with one another it was so much fun," she said. 
Students were able to show the visiting guests around campus and bond over shared interests. Florence Kunishige, a current Senior in the Academy's language program, shared her experience.
Similar to Tajiri, Kunishige said, "I was a bit nervous at first, but I ended up enjoying it. I really liked how they showed genuine interest and spoke in between so it wasn't just giving a presentation."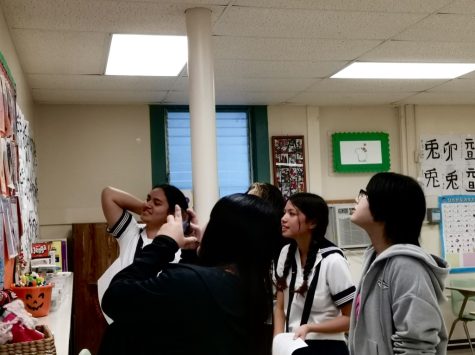 Kunishige shared that a popular place of interest for the visiting students was the Academy's Chapel, where many were stricken with the beauty of the sacred space. She also explained that a main difference in schools was the inclusion of art within the Academy's programs, whereas in Japan, interests are pursued outside of curriculums in clubs. 
Kunishige said, "As I showed them the Art Center, I explained how we could take graphic design, jewelry making and photography. They thought it was cool and enjoyed watching some of the students make their pottery. "
When speaking to others, a common misconception that develops in the presence of a language barrier is often due to the cultural differences among each other. 
As a way to face any adversity, Kunishige says, "I feel like we should be aware of the differences in other cultures so that we are respectful and understand why they do what they do."
Despite these differences, students discovered that because they were able to interact with each other, they found that they shared similar interests and values. 
Tajiri said, "We found a lot of similarities, surprisingly. We both liked listening to (Korean Pop) and found interest in similar artists…some of my other classmates…found that they both like playing the same video games."
Grafia was able to listen in on some of the student conversations, as well as develop questions for them to answer throughout their time sharing. She said, "I am amazed at how kind and caring the students are in the conversations." 
Along with learning new skills and exposing students to a more authentic approach to learning, students felt that they were able to create meaningful connections. Not only have these newfound connections benefitted students in high school, but they will also benefit them in the long-run. Kunishige, who plans on attending a university in Japan, expressed how this program would help her future plans. 
"Meeting these students was not only very fun but beneficial to me because I will have to experience their culture everyday, and so interacting with these students allowed me to understand their way of life better," she said.
Academy students shared gratitude for a more rounded view of the world, coming from this experience and similar ones found in the language program. Tajiri shared, "Despite coming from a different country and having that language barrier, we are still able to connect with one another; whether it be through experiences, likes and dislikes, hobbies, etc. Making these types of connections build character and our knowledge of lives outside of our own."
View Comments(1)
About the Contributor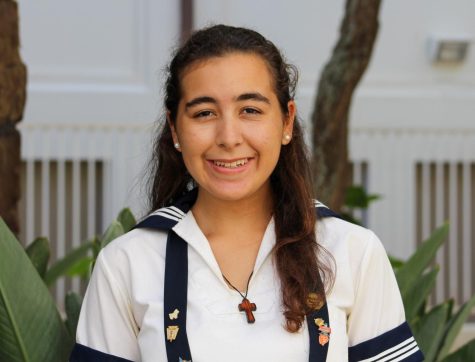 Emily Trueba, Reporter
Emily is a first-year journalism student and a senior at the Academy. She hopes to be able to find connections within the Sacred Hearts community to the...