Who is ready for the 'Middle of Here and Now?'
Hang on for a minute...we're trying to find some more stories you might like.
What does the phrase "Hawaiian art" mean to you? If palm trees and hula dancers come to mind, then you aren't alone. These stereotypes plague the minds of many, including myself. My expectations for Hawaiian art were always astronomically low; that is, until I learned about the Honolulu Biennial Foundation (HBF).
Earlier this month, the foundation presented at a high school Journalism event at the University of Hawaii at Manoa, in which I attended with the Ka Leo staff. I learned about the foundation's mission to redefine modern Hawaiian art, by changing stereotypes and educating both locals and global art lovers alike.
As an art enthusiast myself, I was shocked by the ferocity of my initial skepticism. We think we know everything about the world around us, and so often, this ill-conceived notion is shattered by the introduction of new ideas and mindsets. In this case, having my opinions on Hawaiian art broken was not an altogether bad thing. Hawaiian art, as I soon learned, is more than just hula dancers; it is a way to honor our history and preserve the culture.  
During this presentation, I was excited to hear that the foundation would be hosting an international arts festival on island next year. This would be the first "large scale international arts festival" to grace the shores of Oahu. The festival will occur every two years and foster an international conversation about the present state of Hawaiian art.
Isabella Hughes, HBF co-founder, passionately explained the purpose of worldwide arts festivals.
"We are telling Hawaiian history through art," she said.
Hughes is no stranger to our island's history, as her background includes a formal education at Punahou and teaching at the Honolulu Academy of Art. Hughes' connection to the island helped me relate to her on a fundamental level. Growing up here, she often felt frustrated over the lack of art-related events on Oahu. I understood this sentiment deeply, as I, too, have mourned the fact that Oahu has never been known to entertain such contemporary events.
To Hughes, art is more than a form of expression; it is a catalyst for an international conversation. Inspired by similar biennales in Japan and Singapore, the Honolulu Biennial intends to alter the stereotypes of Hawaiian art by providing a modern reference. "The Middle of Now | Here" is the theme for the contemporary festival, meant to portray the sentiment that Hawaii is not in the middle of nowhere but rather at the center of art.
It's a festival that the child in me cannot help but squeal over; finally, I will be able to be a part of something that is bigger than our island.
During the presentation, Hughes posed the question, "Why is it that artists from here are unknown?" Her reasoning is that curators from around the world are not experiencing authentic Hawaiian art. A reason I cannot help but agree with, as our local artists do not get the attention they need to alter the world's perceptions of Hawaiian art. Hughes, seemingly agreeing with my internal thoughts, said that the only way to change this is to start an international conversation that will "connect all generations and let the world know what's coming."
To transform the general opinion of art, HBF hosts public artist presentations and free zine workshops. A zine is a relatively new art form that is similar to magazines. Essentially, a zine is a handmade magazine full of doodles and collages that center around a message.
The foundation is also currently hosting a collaboration between local and international artists for the Chain of Fire Program. This program includes numerous talks by artists hailing from New Zealand to Maui, as well as a special Dia De Los Muertos workshop for children.
"Let's change the stereotype of Hawaiian art," Hughes said.
She concluded her presentation by recommending ways that everyone can help with altering Hawaiian art stereotypes. Her main tip? Go to as many exhibitions as you can. And you can bet that I will definitely be taking this suggestion to heart.
About the Writer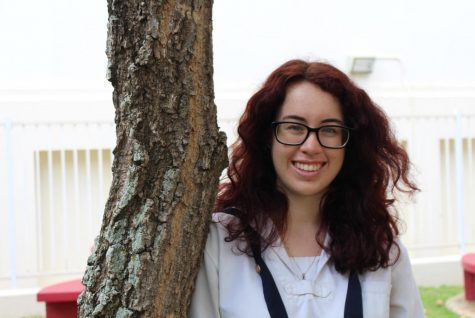 Taylor McKenzie, Webmaster, Reporter
Taylor McKenzie is currently a senior and a second-year Journalism student. She is the Vice President of Student Council, President of PAAC Club, member...