Backstage Pass: Insight into the significance of Hawaii's music
Not many people can say that their dad has graced the same stage of local musical legends such as Fiji, The Mana'o Company and Natural Vibrations. I never really understood the important role that musicians, like my dad, played in our local culture until I entered my high school years and found myself drawn to the music that so many people cherish.  
My dad, Sani Apuakehau, entered this exclusive world of local music in the early 2000's. It gave him the unique opportunity to travel across our island chain and the world to sing and play his guitar alongside the well-known local group, Hoonua. 
My dad takes great pride in sharing aloha through his music. As I watch the crowds sway, sing and skank to the music from backstage, I feel so grateful to witness him doing what he loves, while also contributing to the local music community; a community that is so important to our culture because it tells stories of our people and places. 
From songs about our aina to the struggles of the Hawaiian people, local music gives voice to our communities. Local music has been around for years, connecting our native people together. 
"My father is 100% Hawaiian, (so) I feel obligated to want to sing for my culture and people," Apuakehau said. "Local music has been around my whole life, and it just feels right to be a part of it."
Music is the heart of our ohana. My paternal grandfather was born and raised in Laie. My father was introduced to the local lifestyle and music from a young age. Once my dad made an album, his success skyrocketed. He was performing at nightclubs, bars, restaurants, festivals and even traveled to other countries to sing alongside legendary local artists.
Musical artists of today have found a way to bridge the sounds of our island music with that of other genres.  Their innovation and passion has resulted in their success here in Hawaii and around the world.  
As a young child, I would attend my dad's concerts with my mom. Beach 5 was a band my dad was a part of back in the day. I would be in a stroller, while my mom would perform songs with my dad's band. As I grew up, I would borrow drumsticks from one of my uncles and would drum at the tables, pretending that I was with the band.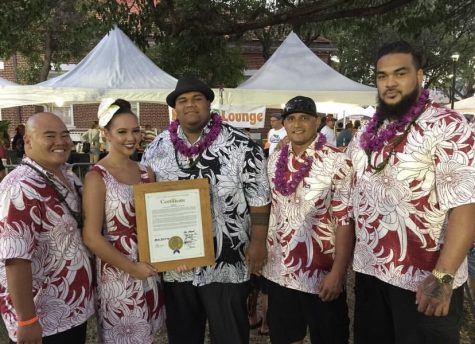 "Never in a million years would I have thought that I would be performing in front of my daughter," Apuakehau said. 
Fast forward to my teenage years, when I began to understand that the musicians, who I referred to as "uncles," were actually the brightest stars in Hawaii music. Through my dad's influence, I have become very rooted and deeply connected with my people and our culture
"Although Hawaii is a small island, if you have the right motivation, you can rise above and be heard across the world," local radio DJ and talent manager Aaron Mikami said. Although Mikami isn't Hawaiian, he grew up in Hawaii where he was rooted in local culture, including music and football. Following his passion for music, he took on positions of influence in the music scene and became a well-recognized figure, rubbing elbows with the who's who of Hawaii musicians. He describes his childhood as one that was heavily influenced by sounds of our islands. He's now living out his dream and bringing that unique sound to stages across Hawaii.  
"(Music) has greatly influenced my life in such a positive way that I don't know what I would do if local music didn't exist," Mikami said.
Local music is the heartbeat of the Hawaiian people. Through music, my father realized his dream of sharing his talent and love of Hawaii to people near and far. Music can also inspire someone like my Uncle Aaron to help propel local artists to realize their dreams beyond our island home. For me, music has been the backdrop to my life; influencing me to connect to and find deep pride in my culture and who I am as a young native Hawaiian. Should you ever find yourself skanking to island music in front of a stage, think of the dreams being realized by the musicians in front of you. 
View Comments (2)
About the Contributor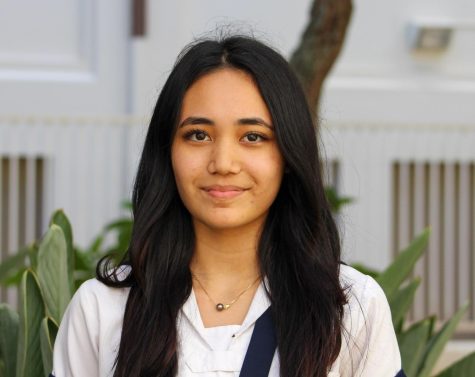 Kaelin Apuakehau, Reporter
Kaelin is a first-year journalism student and a senior at the Academy. As a student reporter, she hopes to make connections with students. While participating...