Junior wins scholarship to study Mandarin abroad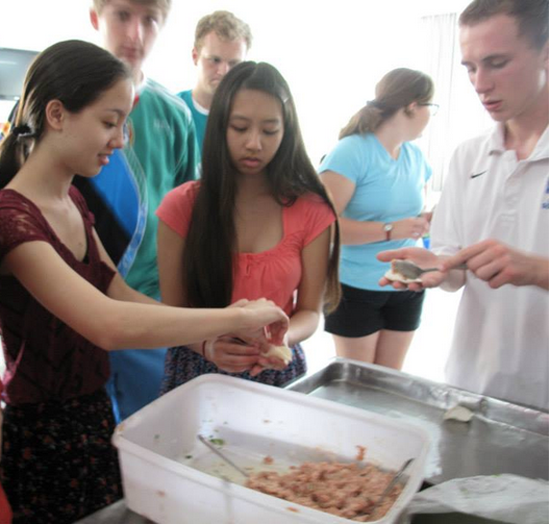 Hang on for a minute...we're trying to find some more stories you might like.
Junior Christine Nguyen won a scholarship from the American Councils and National Security Language Initiative for Youth (NSLI-Y) to study Mandarin in China in June and July this past summer.
After a long, competitive application process, Nguyen was awarded a trip to Hangzhou and all-expenses paid Mandarin classes for seven weeks. She traveled to Washington, D.C., and met 18 other American students who were also going to Hangzhou. From there, the group flew to Hangzhou where each student was assigned a host family.
Daily activities consisted of four hours of Mandarin class as well as cultural excursions and tours of famous sites. Culture classes taught aspects of Chinese life. Nguyen learned native dances and songs as well as how to make dumplings.
Nguyen is the second student from the Academy to win this scholarship. Kelly Lam, a 2013 alumna, also attended the program in the summer of 2012.
Nguyen's most memorable experiences were from the time she spent in the city where she needed to converse with taxi drivers in Mandarin and be able to navigate her way through busy shopping malls.  Nguyen was challenged with "Having an actual conversation with various Chinese citizens…in Chinese!"
Nguyen enjoyed the experience of busy public transportation.
"Riding the bus in China is always fun, from the crazy drivers to the crowded buses leaving no room for any personal space there,"she said.
Nguyen's study abroad adventure gave her the opportunity to learn about Chinese culture as well as refine her language skills. She was also able to see first-hand the intense study habits of her host sibling because even during the summer Chinese students have enormous amounts of homework.
Nguyen has been studying Chinese since the eighth grade. She is taking Advanced Placement Mandarin this year and plans to continue her studies after high school.