I have a passion for the being in the ocean, which is why I thought joining the school's sailing team would be something I'd come to love. I also joined sailing under the impression that it was going to be an easy P.E credit, but I was wrong.
On the day of our first race, the air was warm, and the sky was clear. Our school joined Kamehameha, Punahou and Saint Andrew's Priory on the dock, ready to send off our boats. This created a good opportunity for us to make friends with fellow sailing enthusiasts.
There were two heats of races, with each heat having two rounds in it. As I waited for my heat to start, I cheered on fellow members sailing across the water. At the time, I thought the race looked easy to accomplish and couldn't wait to get in the boat.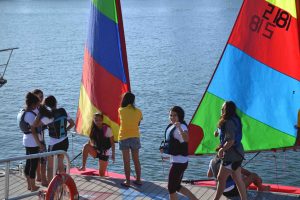 The time for my partner and I to get into the boat quickly approached, and that's when I was the most determined to win the race. As we sailed down toward the starting line, we moved without any difficulties.
The wind picked up right before the starting whistle, and with that, we glided quickly up towards Magic Island to the turning buoy. About half way there, we gradually slowed down, as did everyone else, so we weren't concerned. But it wasn't until the other boats started picking up speed that we wondered why we weren't moving. We tried almost helplessly to get our boat moving, but to no avail, we moved at a languid speed for the next few minutes.
That wasn't the hardest part, though; as we got closer to the buoy, we started to move backwards and had the most difficult time getting around the buoy. After trial and error, we finally made it. And although we weren't in last place, I felt discouraged about the next round to come.
We found that working our way up to the buoy was easier during the second round, but once again, we had trouble getting around it. By the time we finished getting around the buoy, the other competitors were heading back to their respective docks to put away the boats. We finished the race, despite coming in last; I was disappointed that we didn't do as well as we did during practices.
At the end of the day, I was glad I raced because some of the others on my team weren't able to. I realized then that it is going to be a long time until I can sail as well as others and that it is not a sport I should take lightly. I look forward to the races to come and will continue to broaden my knowledge in sailing.