Women paddle into history of surfing
After years of anticipation for the next Eddie Aikau Big Wave Invitational, Jan. 22 presented a breakthrough event to take place in which women participated in the world-renowned surf competition for the first time. 
"It's very inspiring especially for the next generation of wahine (women) surfers. It's different when you hear people talk about it, then when you actually see it happening in front of you. It inspires others to want to eventually get to that level of competition," said Sacred Hearts Academy senior and surfer Liana Tanuvasa when commenting on the event. 
Although she was not able to watch the event in person with the 40,000 that were attending, Tanuvasa was able to witness and testify to the historical event from her home away from the hours of traffic and crowded beach.
"It was definitely a sight to see just from watching it online. The size of the waves were huge and unbelievable. I'm very glad everyone made it safely back onto the beach," she said. 
The Eddie is a big-wave surfing event dedicated to Hawaiian lifeguard and surfer Eddie Aikau and has only been held nine times in the last 39 years. The event calls for specific conditions of 20-foot waves consistently entering Waimea Bay on the North Shore of Oahu. This year six women of the 40 participants were invited to compete. 
"I was very impressed and happy that the organization had one female in each heat. I thought that was so awesome,"  Tanuvasa said. 
Aside from this event, women have been prominently shaping the world of surfing in major world events like the Olympics or the Billabong Pro Pipeline in Hawaii's backyard. Just a few houses down from where the Eddie Invitational took place, women are drawing crowds to the sands of the famous Banzai Pipeline. There, they watch them drop into the barrels of winter swells, as they compete for full prizes. 
North Shore surfer Moana Jones Wong, who Tanuvasa named as one of her inspirations, was one of the first to win it in 2022. Tanuvasa has surfed in this spot in particular for leisure and catches waves around the island. She shared some firsthand insight of what she experiences as a surfer.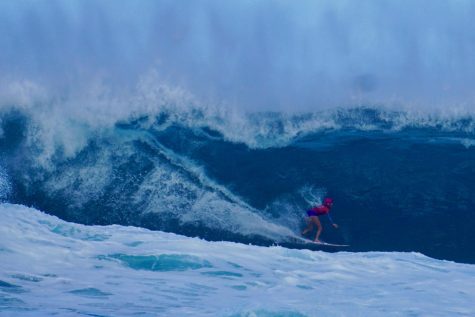 "When I'm on the wave and in the barrel, there's nothing else I have to worry about; I'm always very present in the moment," she said. 
Although it seems like a revolutionary part of the history of surfing to include women in the industry more recently, researchers and analysts are finding that the sport was originally a feminine practice.
Senior Abigail Walker shared her thoughts on the cultural ties that surfing has for her, as a Hawaiian, and why she feels this upward trend is important in representing some of the roots of Hawaiian culture. 
"Just how complex the art of it (surfing)  is is amazing, and I feel like it's an important part of our culture that sometimes we tend to overlook. Now that we're bringing it back and more people are coming, now (that) we have big names in surfing like Carissa Moore and just understanding that now we're finally getting our stories out there, it means so much," she said.
Walker shared that surfing was not only used as a physical activity but was the center of many cultural traditions that tied to mindful habits within Hawaiian culture, predominately a sport for women. She explains the importance of being able to understand its history in Hawaii in elements such as matchmaking, training, and deepening spiritual connections.  Walker shared that it should be understood and held to the level of study that other traditional Hawaiian practices require. 
"If you danced hula, but you didn't understand where hula came from or why people danced it, then you lose out on a very important part of the process. You can gain so much more appreciation and love for the art of surfing when you understand how it came to be," she said. 
Walker shared that although she hasn't fully stood up on her surfboard, she loves the rush of adrenaline that comes from surfing. 
"It feels like you're flying," she said when describing the act. 
Aside from competing individually, Tanuvasa shared that part of women coming to rise in the surf industry is prominently as a result of the support and connections made out on the water with each other as they overcome any challenges present by male-dominated waters.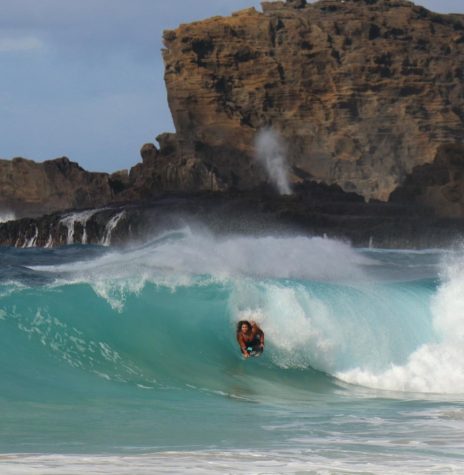 She says, "At times, I wouldn't catch waves that I wanted because I was intimidated by the men in the water. They were very aggressive and many of them didn't like to share waves. A close friend of mine taught me that if I wanted a wave I needed to paddle like I wanted it because when people see you paddling like that, (the) majority of the time they will let you go."
As more waves make their break on the shore, Academy surfers hope to continue to brave waters around the island and even further as they continue their journey out into new waves. Tanuvasa shares that she would like to continue to challenge herself in competitions and one day be able to surf in waters outside of Hawaii. 
"A goal of mine in the future is to go to the Mentawais for a surf trip." she said. 
When embracing new challenges in the waters, Tanuvasa comments on her primary goal amidst the competition, which stems from the joy she receives each time she surfs.
She says, "I personally just want to keep having fun. Through surfing I have made unbreakable bonds with people who I never knew I would be friends with. Surfing is a huge outlet for many people. When surfing you make a connection with the ocean that is like no other."
Leave a Comment
About the Contributor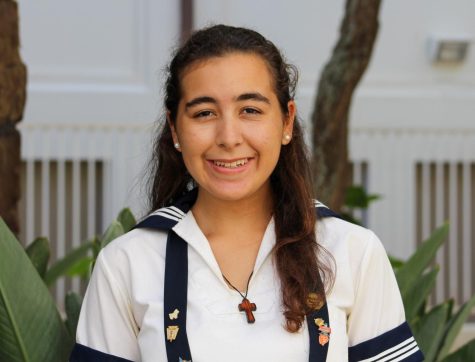 Emily Trueba, Reporter
Emily is a first-year journalism student and a senior at the Academy. She hopes to be able to find connections within the Sacred Hearts community to the...