Wrestling through the barrier of women in sports
"It's a great experience to be a girl wrestler because you are proving to society that it's not just a boy sport. Break the norm," Kamehameha senior wrestler and state champion Kensen Fuata said. 
According to the "National Wrestling Hall of Fame," "Opportunities for girls and women to wrestle began in the late 1980's, when the international wrestling federation United World Wrestling began hosting competitions." 1998 was the year that girls were able to wrestle in high school in Hawaii. That same year, high school junior Clarissa Chun, decided to try out for wrestling. She won the state championship and went on to defend her championship title the next year as a senior. She was the first high school wrestler in the country to win an official state high school girls wrestling title. Chun is also the first wrestler from Hawaii to receive an Olympic medal.
Being a senior this year, Kensen is one of two girls on the Kamehameha wrestling team. She shares information about girls wrestling from Hawaii compared to those on the mainland.  
Fuata says, "Being a girl on the wrestling team makes me feel special because it's not as prevalent as it is (on) the mainland as it is in Hawaii. It is more common to be a girl wrestler here in Hawaii. Since there are not a lot of girl wrestlers (on) the mainland, they actually end up wrestling boys. Being a girl wrestler means so much more wrestling here than anywhere else because you have more opportunities to wrestle girls who may or may not be the same skill level as you." 
Wrestling season has just finished, completing its course at the end of February. Fuata has recently just competed in the wrestling states tournament at Brigham Young University. This tournament brought together the wrestlers who qualify to compete against some of the best wrestlers in the state. As a result, she is the Interscholastic League of Honolulu (ILH) state champion, ranking third in the state.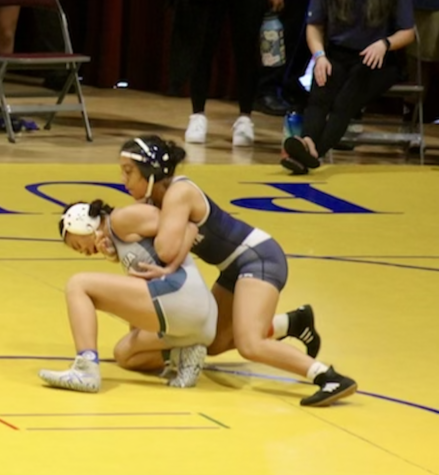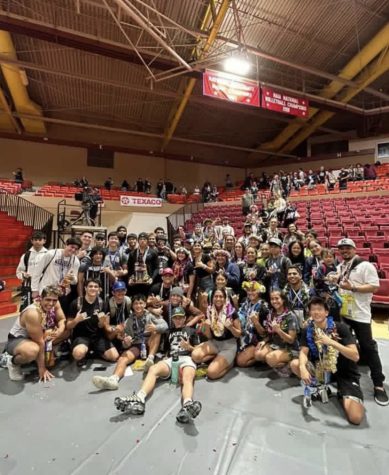 "As an ILH champion and number three in the state, I feel super grateful and happy. I am proud of myself for sticking to wrestling all these years and pushing myself to become the best version of myself that I can be. I feel happy knowing I made my parents and family proud and that is what I wanted to accomplish. Wrestling has taught me so many skills that I will apply to my future. I am glad this is what my ending looks like and all the memories I have from this sport will be cherished forever," Fuata said.
Fuata was asked what wrestling meant to her.
"To me wrestling is more than just a sport; it's a way to relieve stress and a way to just keep my mind off of other things. It helps me physically and mentally keep me in shape, and it takes my mind off of the outside world for those two hours of practice that I have everyday," Fuata said.
Fuata shares how she was able to get into the sport of wrestling. She shares some history and background of how she got to where she is.
"My brother made me get into wrestling. He wrestled back in high school and watching him was quite fun. I'm one of those types who does whatever their sibling does. I wanted to do wrestling and didn't see myself sticking it all the way to my senior year, but I have now been wrestling for six years and it has been the best six years of my life," she said.
Wrestling teammate Ezekiel Giddens comments on how girls in wrestling and sports, in general, should be praised.
"It feels pretty normal here in Hawaii. Kensen is one of my close friends, and we are on the same wrestling team. I feel it is important to show that girls can be in any sport they want because anyone can do whatever they want. We have multiple girls in our wrestling program. I am proud of these girls for pushing through society's norms and pursuing what they love," Giddens said. 
"I think girls in sports should be praised more often and some don't get the recognition they deserve," Giddens said. 
Fuata gives advice to aspiring wrestlers. 
"Have fun and wrestle. It doesn't matter what gender you are; just go out and wrestle, no matter what skill level you may be at. Don't sike yourself out; leave it all on the mat and don't hold back. When you finish a match, it's done; don't take your anger and emotions outside of the mat or onto your opponent. If you lose a match, turn that anger into motivation which will help you in a later match." 
View Comments (2)
About the Contributor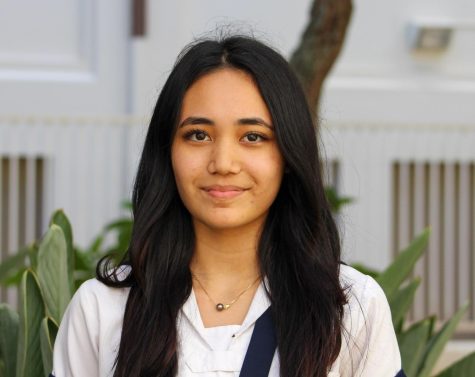 Kaelin Apuakehau, Reporter
Kaelin is a first-year journalism student and a senior at the Academy. As a student reporter, she hopes to make connections with students. While participating...