Hop skip and jump away
Seniors of the Sacred Hearts Academy have been working hard in order to make sure they go all out for their last sports season. Each senior is working towards their own goals and has their feelings about their final high school sports season. Contrary to pre-season, athletes on the Academy's track and field team have been practicing for their own purpose. Instead of hitting the weight room every day, the track and field team has been individually working to prepare for their events. Some hit the weight room occasionally, practice throwing, hurdles, jumps, and more. 
Senior Logan Chung feels bittersweet that it is her last track season of high school. She has been doing track and field since her sophomore year at the Academy. She knows that she will not continue track in the future (college), and this will be her last year participating as a team. 
She says, "I will miss my coaches who have coached me for a long time; I will definitely miss the connections I have with them." 
Chung wishes that she had paid more attention to her form and speed since the beginning of her journey. She believes that if she had focused more on those things, she would have been different right now. Regardless of her form and speed, she is very happy that she has become a better athlete. 
She also finds it difficult to balance her school life and athletic life. Due to her busy schedule, she gets swamped with schoolwork. She says that she has disciplined herself to try her best to balance everything out. 
Chung believes that she has matured ever since her first season as an athlete. 
"I was a bit more bossy and immature back then," Chung said. Chung is very happy to have grown, not only as an athlete but also as a person. 
"Now I am faster, learned and mature, and I have learned how to behave myself at a track meet. I also learned how to calm down," Chung said. 
Chung wishes that she had tried out a variety of events beforehand. 
"I have only ever done long-distance. I would tell my younger self to try out the long jump and hurdles," she said.
Chung says that she would tell younger athletes to try as many events in track as possible. She believes that it is a good thing to try and challenge yourself. She also recommends taking study hall for people who have trouble balancing their school life and sports life. 
"It is important to think that school is more important than sports. Don't be ashamed to take study hall. Having a life outside of school and sports is very important. Form good habits young, and even if you're not young it's not too late," Chung said. 
Although having to say goodbye, through track and field at the Academy, Chung has grown to be a more well-rounded individual and she will continue to achieve her goals.
View Comments (3)
About the Contributor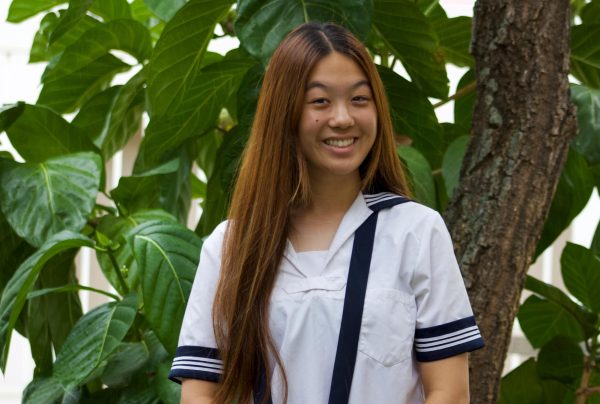 Danielle Woo, Reporter



Danielle is a second-year Journalism student and a junior at the Academy. She hopes to learn how to write creative stories and improve her writing...