Lower school takes on monthly reading challenges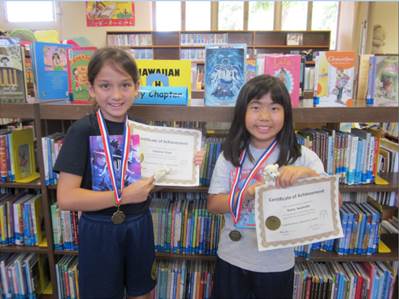 Hang on for a minute...we're trying to find some more stories you might like.
The Academy's lower school annually participates in Pizza Hut's BOOK IT program which rewards students with coupons for personal pan pizzas once they complete reading goals.
Librarian Laurel Oshiro said, "The goal of the monthly reading challenge is to motivate and excite the girls about reading. We want to create a culture that rewards reading, where reading is elevated and not where students hate to bear the thought of reading. BOOK IT encourages students to want to read more and the reward of pizza is an extra incentive that helps them to expand their vocabulary and knowledge."
Wanda Pila's first grade class is the only class to achieve 100 percent participation for the past seven months. Students won an ice cream party for having the highest participation.
Oshiro said, "We didn't only want to celebrate the students who won but also to reward the classes that participate in the monthly reading challenges. By creating this prize, it allowed students to talk to their friends and also motivate them to read."