Women's Studies class takes action
Hang on for a minute...we're trying to find some more stories you might like.
The Women's Studies class has been focusing on issues facing women today and trying to raise awareness and have students take action.
Teacher Kimberly Lauzon said, "Women's Studies is an interdisciplinary academic field that puts women at the center of study and seeks to improve the condition of women's lives both in the United States and across the globe. An important aspect of women's studies and feminism is the drive for social change. All the rights and privileges we have today came from the actions individual women took to promote change. The Action Project asks students to choose an issue relevant to women today that they care enough about to want to do something and either lend assistance or share their knowledge with others."
Students in small groups chose an issue facing women today. Topics included media representation of women, gender discrimination and stereotypes, violence against women, and women in poverty. Students were able to raise awareness through film, a play, a public service announcement, posters, flyers, poetry wall or volunteering.
Topics and formats differed among students in the class.
Sophomore Nia Fernandez said, "My group and I chose the topic of sexual abuse because it is an important topic that everyone should be aware of. We were able to raise awareness by handing out flyers and also by creating a PSA where a bunch of people gave their opinions on sexual violence and its negative effects."
Sophomore Nikaela Busekrus said, "My partner and I did a project about eating disorders and encouraged our classmates to love themselves the way they are. We showed a PSA and asked students to write what they love about their bodies on a bulletin board."
An important aspect of Women's Studies is bringing theory and ideas to social action and improvement. The project served as a personal bridge and was a capstone project for the semester.
Lauzon said, "I hope students walk away from this assignment more informed, empathetic and empowered than when they began, which will inform their future decisions and actions as young women."
About the Writer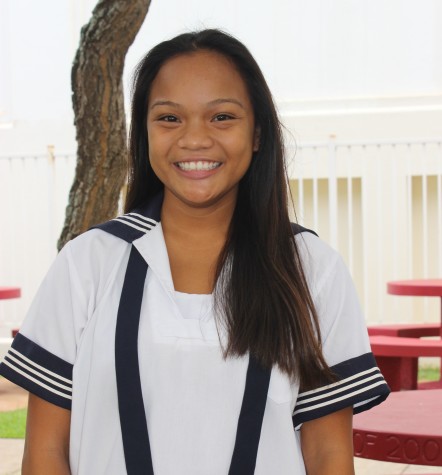 Janelle Medrano, Editor-in-Chief
Janelle Medrano is a senior and a third-year member of the Ka Leo staff. She enjoys dancing, hiking, snorkeling, and pogo-sticking. In her free time, Janelle...