Healthy cereals help one's health
Like almost all food, choosing a healthy cereal is not a simple task. The cereal that one chooses can say a lot about one's health. It can either add a great amount of good stuff to one's diet or add a whole lot of nothing.
Experts say that choosing a healthy breakfast cereal is mainly about getting some whole grains. According to WebMD Health Corporation, recent research suggests that those who eat more whole grains are at lower risk of diabetes and heart disease.
Kellogg's Special K Protein Cereal includes powerful little nutrients that has a crispy crunch and lightly sweetened wheat, soy and rice flakes.  Although quite bland, consumers may add fruits and other toppings for a healthy breakfast cereal. The serving size is ¾ a cup (32g), contains 19 grams of the total carbohydrates, 7 grams of sugars per serving and contains an incredible amount of protein at 10 grams per serving. After all, the major source of energy provided in this cereal is protein. Protein is considered a major component of all the cells in a body and it can help to satisfy one's hunger longer.
Honey Bunches of Oats with Real Strawberries was named the best-tasting cereal in 2010 based on category appraisal conducted by Blueberry Research. The serving size is ¾ a cup (31g), contains 26 grams of carbs, 8 grams per serving and 2 grams of protein. This cereal is considered heart healthy because of its 0 grams trans fat, saturated fat and cholesterol per serving. There is also a total of 10 grams of whole grain in each serving.
Sophomore Kathryn Garcia said, "I usually eat cereal a couple times a week for breakfast because it's easy to prepare. I love eating Honey Bunches of Oats with Real Strawberries because it's really crunchy, tasty and I just love addition of strawberries."
Honey Nut Cheerios is a popular cereal made of whole grain, is low in fat, and helps to reduce the risk of heart disease and lower cholesterol. It contains 22 carbs, 9 grams of sugar and 2 grams of protein with the serving size of 2/4 a cup (28g). Honey Nut Cheerios has the irresistible taste of golden honey and each piece contains soluble fiber from whole grain oats.
Freshman Dominique Almeida said, "I always eat Honey Nut Cheerios because of its sweet taste. Cheerios are really addicting because I always tend to grab a handful of them after my first bite."
The original Cheerios is made from whole grain oats and has no artificial flavors. They're low in fat, have no saturated fat and is naturally cholesterol free. Cheerios is an excellent source of folic acid and a good source of fiber. Its serving size is 1 cup (28g), contains 20 grams of carbs, 3 grams of protein and only 1 gram of sugar.
Almeida said, "I usually eat a ziploc size bag full of cereal every day for snack. Since I often share my cereal with my friends, it always seems to be eaten so quickly."
Kellogg's Frosted Mini-Wheats Bite Size is packed with fiber and 8 layers of whole grains. In a serving of 21 biscuits (54 grams), this cereal contains 46 grams of carbs, 11 grams of sugar and 5 grams of protein. This lightly frosted coating on each bite size piece keeps one's energy stoked and delivers a big breakfast taste in just a little biscuit.
A popular cereal among the youth is Kellogg's Frosted Flakes because of its sweet taste and crunchy cornflakes. Its serving size is ¾ a cup (30g), contains 27 grams, 11 grams of sugar and 1 gram of protein. Although not considered a healthy cereal because of the amount of sugar, the cornflakes are still an excellent source of energy. The calories are easily absorbed by the body, helping one to get up and moving early in the morning.
Sophomore Shayla Trinidad said, "My favorite cereal is probably Frosted Flakes because it has such a great taste. I usually eat cereal about three times a week especially whenever I'm craving for something sweet to snack on. Since I don't have a big appetite during recess, I buy cereal because it is always satisfying."
About the Writer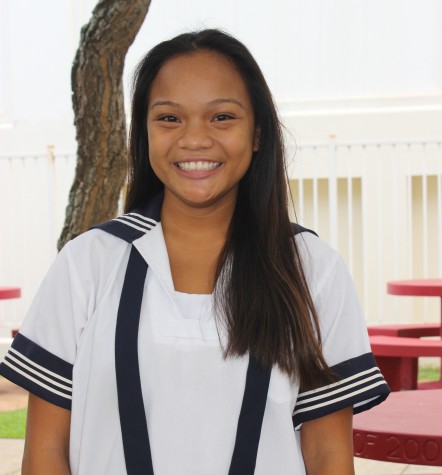 Janelle Medrano, Editor-in-Chief
Janelle Medrano is a senior and a third-year member of the Ka Leo staff. She enjoys dancing, hiking, snorkeling, and pogo-sticking. In her free time, Janelle...