Hawaii has variety of tasty local snacks perfect for any occasion
Hang on for a minute...we're trying to find some more stories you might like.
Hawaii is known as the "Paradise of the Pacific" because of its exotic flora, beautiful beaches, and mountains and majestic waterfalls. It is a favorite tourist destination. What some visitors may not know is that along with its reputation as paradise, Hawaii also has many unusual local snacks.
Li hing mui, Chinese preserved plums, is one of the most popular snacks in Hawaii. The tasty dried seed can easily be eaten anywhere and since locals love the strong flavors of sweet and sour, li hing mui is always popular. Many locals sprinkle the sour, plum-based powder on just about any snack food: fruit salad, dried mangos, gummy bears, popcorn and just about anything one can think of.
Shave ice is another preferred local snack found everywhere in the Hawaiian Islands. Consumers have a great variety of different flavors to choose from. In addition to many choices of syrups, ling hi mui, azuki beans, ice cream or condensed milk can also be added. Although shave ice originally came from Japan, these delicious ice treats have morphed into something local.
Freshman Rylee Arecchi said, "During the weekends, my sisters and I always walk to Matsumoto's Shave Ice in Haleiwa to buy shave ice topped with li hing mui powder. That is my all-time favorite local snack and I would eat that any day."
Arare is a bite-size Japanese style rice cracker that was brought to Hawaii by the Japanese. Most commonly referred to as kakimochi or mochi crunch, today arare is often eaten with popcorn with a sprinkle of furikake, but many also enjoy it by itself. Arare is a perfect snack for any occasion because of its crunchiness and salty or sweet flavor.
Sophomore Nia Fernandez said, "I love eating mochi crunch because of how crunchy it is and it's always satisfying. I especially enjoy eating it with popcorn because it has a sweet and salty taste to it."
Hawaiian-style teriyaki and peppered beef jerky are other favorites of locals. In the 19th century, Mexican cowboys came to Hawaii for cattle ranching. The Hawaiian cowboys chewed pipikaula, "beef rope," a salted, dried beef that resembled beef jerky. With the influence of Asian cuisine, the beef strips are now often marinated in soy sauce and eaten as a common snack food.
Freshman Jasmine Basug said, "Whenever I see jerky, I always snack on it. My dad often buys teriyaki marlin or beef jerky because we enjoy its salty and smoky taste."
The creation of spam musubi, introduced by local Japanese in Hawaii, has been around since the 1980s. Spam musubi seems to be a favorite of many. It can be found at every convenience store in the islands and sold in many school cafeterias. Although a spam musubi is quite simple to make with only four main ingredients, its rating on the scale of sweet and salty tastiness cannot be denied.
Sophomore Shajaira Fiesta said, "During my recess period, I always buy a spam musubi from the cafeteria because they make it with a very sweet sauce. Many locals love eating spam musubi and in general, I think that they are a wonderful treat."
About the Writer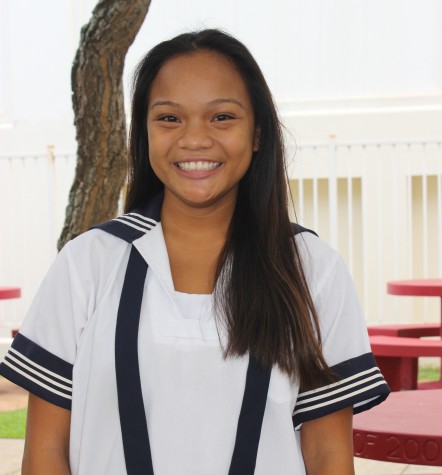 Janelle Medrano, Editor-in-Chief
Janelle Medrano is a senior and a third-year member of the Ka Leo staff. She enjoys dancing, hiking, snorkeling, and pogo-sticking. In her free time, Janelle...