Economics students score in stock market competition
Sacred Hearts Academy's Economic classes participated in this year's Hawaii Council on Economic Education's Hawaii Stock Market Simulation (SMS). Three teams ranked high among the states high school competitors.
Students took first and second place in the Income/Growth Division and another team won second in the Growth Division.
Over 10 weeks, students in teams of two, three or four, invested $100,000 of hypothetical money in real stocks and bonds. As teams bought and sold stocks and bonds, students saw the positive and negative effects of investments.
In the Income/Growth division, seniors Breanne Flores, Sheri Quon and Nicole Stewart took first place while classmates Victoria Chang, Lauren Wedemeyer and Noemi Yoshida took second. Seniors Melissa Hahn and Kelly Zheng placed second in the Growth Division.
Economics teacher Lurline Choy guided the students and was instrumental in their success.
"They were required to check [Hawaii SMS] every day and needed to balance and maintain a certain percentage in bonds and stocks," said Choy.
Although this assignment allowed students to "play" with $100,000, it was tricky and hard to make proper decisions on when to sell or buy to ensure that the financial portfolio was balanced.
"Our main challenge was balancing our account. Our account was never really even and if there was a big percentage difference, other teams would take our number one spot away from us. We talked to Mrs. Choy every day and she helped us balance the account and we soon had everything figured out nicely," said Stewart.
"We invested in companies such as Tiffany & Co., Disney and Starbucks. Surprisingly, Starbucks performed extremely poorly even though we thought it would do well since it is so popular," said Wedemeyer.
This is not the first time the Academy has had winners, attesting to the guidance Choy gives her students. The experience of participating in this simulation has given students lessons of teamwork and tools for smart investing, which can be beneficial to them in the future.
"I remember always being super scared about checking the rankings of all the teams and one day when I didn't check, Mrs. Choy told us that our group was first! From that day on, I was never off the SMS web site," said Stewart.
View Comments (1)
About the Contributor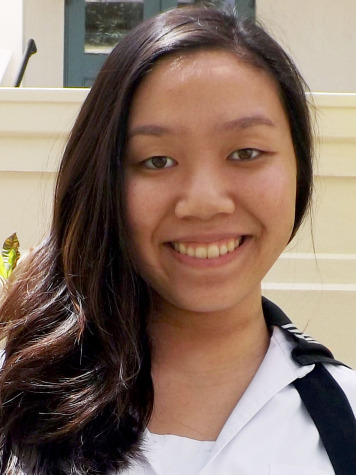 Victoria Chang, Reporter

Victoria Chang is a teacher's assistant at Punahou Dance School, teaches dance at the Performing Arts Center of Kapolei and is a member of the National...