YWCA teen board members register seniors to vote
The Young Women's Christian Association (YWCA) is dedicated to "eliminating racism, empowering women and promoting peace, justice, freedom and dignity for all" according to their mission statement. Three Academy students, seniors Chelsea Nicholas, Connie Lee and Megan Tang, have recently become high school board members.
As part of the YWCA's goal to empower women and generate more female involvement in the community, Nicholas, Lee and Tang are registering the Senior Class to vote. Young adults are one of the least represented groups when it comes to voting. The initiative hopes to encourage young women to have a greater voice in future elections.
"I fully supported it. I think it's important for young people to exercise the right to vote. More importantly, they take it upon themselves to be informed before voting," said Senior Class adviser, Wendi Vincent.
"I think it's a great start for us to be registered to become vocal members of the democratic process. I'm glad that the three seniors who are representing us are giving us the opportunity to register which makes it easier on our part," said senior Xylia Lydgate.
"I hope that the seniors appreciate the fact that we're processing all the registrations for them. They do not need to worry about it when they turn 18 and want to vote," said Nicholas.
Not only do younger generations have little representation or voice in the democratic process and in government as a whole, but women in general are not as involved as men.
"I think it's astonishing to think about how far behind women in the United States are in various government and corporate positions. I hope this will motivate my classmates to get involved and pay attention to politics," said Tang.
Although seniors are registered to vote once they turn 18, there is still a chance that many will not vote.
"It helps that the registration process has been made easy for them, but there is still a matter of choice and free will which is a beauty of democracy. I hope that we've educated students enough here for them to realize that it is a privilege to participate," said Vincent.
Leave a Comment
About the Contributor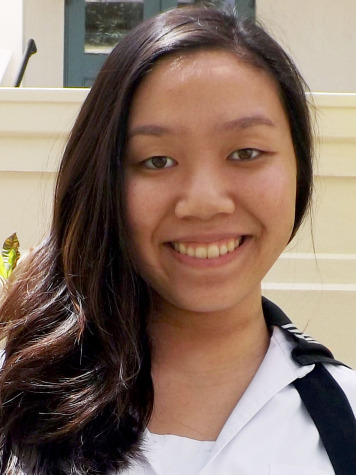 Victoria Chang, Reporter

Victoria Chang is a teacher's assistant at Punahou Dance School, teaches dance at the Performing Arts Center of Kapolei and is a member of the National...