More streamers 'go live' during pandemic
As the coronavirus pandemic continues, more people tune into streaming content online, from watching video game matches to esports tournaments. For Sacred Hearts Academy junior and streamer Carlee Marcello, it became a way to interact with friends when in-person activities and transportation to social outings were limited.
"Streaming is one of my favorite things to do with my online friends," she said. "I was stuck home alone (during lockdown). Streaming…was a way to pass time, while being productive."
Dreaming of streaming
Marcello stays productive in continuing to gain a virtual following on Twitch, a live-streaming platform for gamers and other lifestyle influencers. Twitch streamers broadcast their gameplay or activity by sharing their screen with fans and subscribers who can watch them live. Twitch also hosts esports competitions and music broadcasts. 
The 16-year-old, who has more than 112 followers, grew up watching popular streamers and YouTube influencers. The pandemic, she said, also offered an opportunity for her to pursue a childhood dream. With the help of her older brother, she was able to obtain a custom-built PC computer that was powerful enough to start chasing after the dream to stream. 
"From there, I realized that I had the resources, and after a lot of encouragement from friends and a lot of confidence-building, I began chasing after this dream," said Marcello, who mostly streams herself playing video games like "Valorant" and "Minecraft." "Valorant" is a first-person hero shooter game. "Minecraft" is a video game in which players create and break apart various kinds of blocks in three-dimensional worlds.
According to a recent article, livestreaming started in the early 1990's, growing in popularity by 2010. Livestreaming back then mostly included music and entertainment. Today, an interest in it includes competitive video gaming. 
Making use of time inside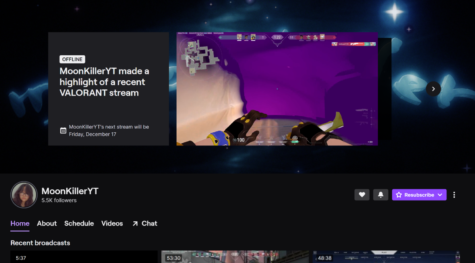 Twitch streamer MoonKillerYT also started streaming at the beginning of the pandemic.
"Since everyone was stuck inside (at the start of the pandemic), millions of people needed something to quench their boredom," the California-based streamer said. "That's when many turned to content creation, livestreams and gaming."
MoonKillerYT has more than 5,000 followers on Twitch and primarily plays "Valorant." Her growing fanbase has paved the way for paid collaborations with companies like many others on the streaming platform. Some have turned their passion into a full-time career.
Twitch has grown exponentially since its debut in 2011. An article by "Business of Apps" shows that in 2012, Twitch had about three hundred thousand unique accounts. By 2020, that number increased to more than 3.4 million. Average monthly viewers went from one hundred thousand in 2012 to about 1.5 million in 2020.
An article by Dot Esports, a competitive gaming news publication, revealed that CriticalRole is the highest-earning Twitch streamer. The group of professional voice actors that roleplay and stream the game "Dungeons and Dragons" earns nearly $9 million per month.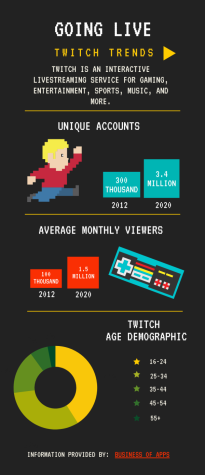 Streaming as a career
But for MoonKillerYT, her success as a full-time streamer includes less dollar figures.
"Realistically, streaming is not going to pay for my future bills," MoonKillerYT said. "I realize it; I understand that I cannot live off of the wages I am earning through it." 
A small-time streamer, according to an article in "Millenial Money," makes about $1,500 a month. Those partnered with Twitch may earn 50 percent of the revenue made and receive a verified badge, which provides more credibility.
In order to make a career out of streaming on monetized social media like Twitch, Facebook and Instagram, streamers must continuously develop new content. They say that the importance of building up an audience on multiple platforms also helps with success, along with having a personality that's relatable to the viewers.
"I don't think streaming and content creating is a reliable career because no matter how entertaining you may be, it is all about luck at the end of the day," Marcello said. "You may have what it takes to become a big-time streamer who can live off subscriptions and donations, but there is no guarantee that you will reach that point." 
Marcello, who aims to stream for about four to eight hours a week, said her first donation was during a "Valorant" game. She earned $20. 
"I would love to pursue streaming as a career, but I don't want to dive headfirst into becoming a full-time streamer," Marcello said. "That is really up to how the next year in streaming turns out for me. If I'm not able to stream as a career, I will probably just leave streaming as a hobby I did in high school."
And as a high schooler, she finds it challenging to balance streaming with schoolwork and extracurricular activities. Marcello participates in track and field and the Academy's Girls Got Grit program. 
"Unfortunately, streaming is the aspect of my life that gets neglected when the other two become too much," Marcello said. 
Facing bullies online
"Sometimes, I do have the time…but I don't have the motivation," she said. "This slump (comes) from watching…another creator…get bullied by the internet."   
Research from the Cyberbullying Research Center reveals that gamers are much more likely than non-gamers to be victims of bullying (about 40.7% compared to 27.2%). Playing in highly intense multiplayer games can lead to more abuse verbally or written in the chat.
As the leading video game streaming platform, Twitch introduced a tool to reduce online abuse. The tool, called AutoMod, filters out potentially offensive words or phrases. It can be enabled by streamers to help them deal with abusive comments more easily.
While Marcello has not personally experienced bullying when gaming, her motivation to stream goes back to what she is passionate about. 
"Whenever I press the 'Go Live' button, I feel instant joy," she said. "I always get so excited to stream."
Leave a Comment
About the Contributor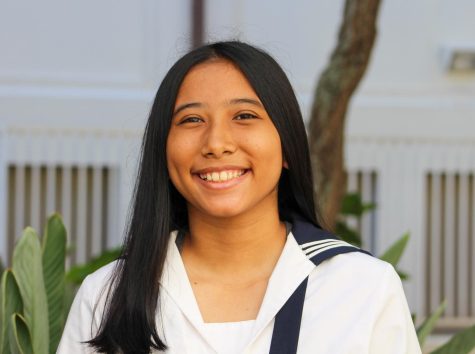 Jaime Tumbaga, Reporter
Jaime is a third-year journalism student and a junior at the Academy. This year in journalism, she hopes to learn how to connect with her peers and tell...