Academy welcomes new Head of School
Sacred Hearts Academy students gathered yesterday for a special morning assembly announcing new Head of School Dr. Scott Schroeder. He replaces Betty White, who has been at the Academy for more than 40 years.
Schroeder, a former Academy Board Member and chair, will start in July 2019.
Following White's official retirement announcement in January 2018, a 6-month-long search for the new Head of School commenced. A pool of applicants was then submitted to the Members of Sacred Hearts Academy for further review.
White has been an educator at the Academy for 50 years. This year marks her 17th year as the Head of School.
"I would have never imagined that they would choose a male Head of School, but now that we have one, the idea doesn't seem too far-fetched," senior Xavier Downey-Silva said. "In fact, I'm excited to see what (Dr. Schroeder) can do for the school."
Schroeder was chosen based on his high scores in the key elements that exemplified a befitting successor to White's legacy, such as, education experience, leadership and business acumen, academic and student affairs experience and Board relations. He most recently served as Dean of the School of Management and Communication and Professor of Management at Chaminade University.
Schroeder was also commended for his five-plus years experience of being a Board member for the Academy, aligning his beliefs in the Catholic faith, as well as reinforced professionalism and passion as an educator from supervisor references.
"We're in a time of unprecedented opportunities and challenges for girls and young women," Schroeder said during the morning assembly. "I believe the best that the Sacred Hearts Catholic education has to offer; faith development, academic aventure and an environment filled with joy, will prepare (the students) to grab those opportunities and meet those challenges now and in the future."
Leave a Comment
About the Contributor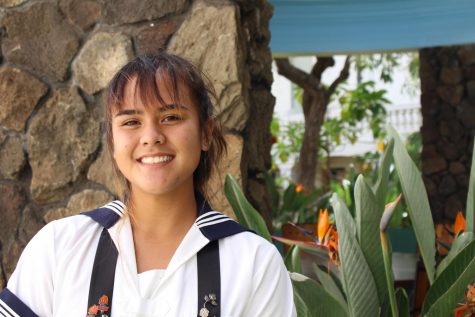 Rebecca Meyer, Features and Sports Editor, Reporter
Rebecca Meyer is a senior and third-year Journalism student. She is also the Features and Sports Editor. Being a journalist to her means being able to...