All the world's a stage for senior Shannon Domingsil
Hang on for a minute...we're trying to find some more stories you might like.
Senior Shannon Domingsil is no stranger to the stage.
A performer since the age of five, Domingsil has found singing to be her passion as she was greatly influenced by her mother.
Domingsil said, "My mother loves to sing and has been a part of our church choir for a long time even before I was born. Her love for singing transferred to me and inspired me to be a singer as well."
As an 8-year-old Domingsil not only wanted to sing, she wanted to do it all and enrolled in dance classes where she took hip hop, jazz, ballet and tap.
When she was in the fifth grade, Domingsil performed in her first musical production "Charlie and the Chocolate Factory" at her elementary school.
Domingsil said, "I was really excited to audition for a play, but  I'd never done theater before. Although this was just a small school putting on a little production in the cafeteria, at the time, I felt that it was the biggest thing ever. It was an amazing experience because instead of just singing on stage, I was a totally different person, pretending to be someone in this little world on the stage."
During high school, Domingsil continued to land roles in  Academy  plays and St. Louis School productions, taking part in a total of seven musicals, including "The Little Mermaid Jr.," "Seussical Jr." and "In the Heights."
Domingsil has worked closely with St. Louis School's musical director, Kyle Kakuno, who admires Domingsil and her great potential.
Kakuno said, "Shannon has grown as a performer in all aspects of her game – singing, dancing and acting, because she meets each challenge with reckless abandon. Her fearless way of attacking the roles she's been given is what sets her apart from her peers. If she chooses to continue in the field of performing arts, she has the necessary tools to succeed, and if she were to keep that fierce competitive fire that's in her, she has a good shot at becoming a professional. I say all this knowing that there's a part of her that is carefree and I could see her succeeding in a variety of other fields should she delve into them with the same reckless abandoned focus and energy that I've witnessed while directing her."
Like other actresses, Domingsil experienced challenges that only made her strive to become a better performer.
Domingsil said, "Challenges I face would include not fitting 'the look' of a role and not thinking I'm good enough or feeling that I had to hold back on what I love because of what other people think. People hold such high standards of me sometimes and I do not want to let them down. I want to live up to those expectations or even shoot past them because I want to make people proud and I want to make myself proud because I know I have the ability to do so. There are a lot of people who are good at this or want the same things I want and that is a challenge, but it's also an inspiration for me to push myself and to be better and to look at other people and see how good they are and work my butt off to be as good as them."
In addition to her theatrical activities, Domingsil is the co-anchor of the Academy's morning news broadcasts, "The Lancers Lately."
Domingsil said, "Being stopped in the hallway and thanked by a student for making her laugh because of the newscast or for a teacher to tell me how much he or she enjoyed the morning newscast and how much they look forward to tuning in to watch our newscasts is the best feeling in the world. It brings me so much joy to know that I am able to brighten someone's day by simply doing something that I enjoy and am absolutely passionate about."
Domingsil plans to major in broadcast journalism in college and continue her involvement in performing arts.
About the Writer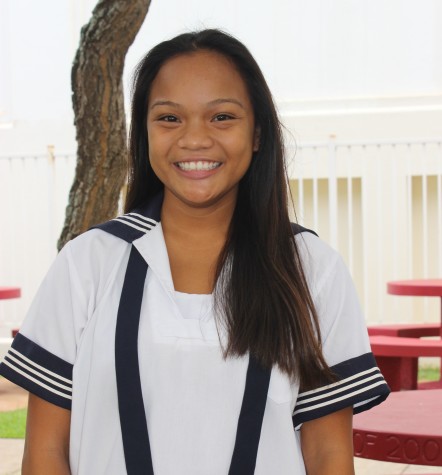 Janelle Medrano, Editor-in-Chief
Janelle Medrano is a senior and a third-year member of the Ka Leo staff. She enjoys dancing, hiking, snorkeling, and pogo-sticking. In her free time, Janelle...