Students compete in KFVE academic competition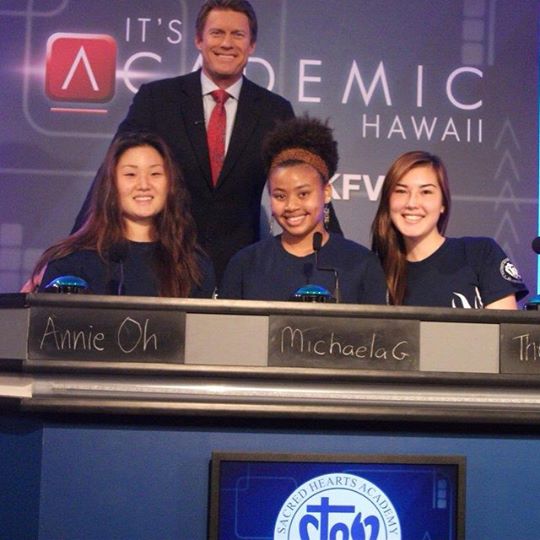 Janelle Medrano, Reporter
March 29, 2015
Hang on for a minute...we're trying to find some more stories you might like.
Juniors Michaela Graves, Theresa Ginter and Annie Oh represented Sacred Hearts Academy on KFVE's academic competition, "It's Academic Hawaii," for Hawaii's public and private high schools.
The team started preparation in February by reviewing a wide range of subjects, including history, geography, literature and knowledge about Hawaii.
Ginter said, "It's hard to really prepare for this competition because the questions are from all facets of life. We often just researched specific topics, like geography, and also played Trivia Crack to help us become better prepared. Since I was part of the team last year, I wasn't as nervous and was able to actually answer more questions because I became very comfortable with my team members."
The first round featuring the team aired on Mar. 22 where members competed against Molokai High School and Kauai High School. In the semi-final round which airs in late May, the team competes against Mid-Pacific Institute and Waiakea High School. Teams are asked not to discuss competition results until after the showing on television.
Team adviser Lurline Choy said, "The team had a goal to win the first round and they met the goal. The score was very tight for both competitions, but overall, I think that the girls did quite well and I am very proud of what they achieved."
About the Writer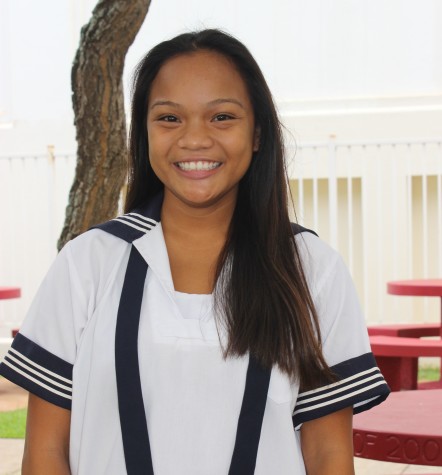 Janelle Medrano, Editor-in-Chief
Janelle Medrano is a senior and a third-year member of the Ka Leo staff. She enjoys dancing, hiking, snorkeling, and pogo-sticking. In her free time, Janelle...