Freshmen look forward to Initiation Week
Janelle Medrano, Reporter
September 24, 2014
Hang on for a minute...we're trying to find some more stories you might like.
The newest Freshman Class is being initiated into high school the week of Sept. 22 – 26. This year's Initiation theme for the Class of 2018 relates to Disney characters and movies.
On each day of the week, juniors will dress up their "little sisters," the freshmen,  and participate in various activities.
Freshman Madeleine Sing said, "I am really excited to have a big sister and see all the great things that we will do together in the next two years. I am also looking forward to Initiation Week because of the fun activities that our big sisters are planning for us. As for the dance, I'm very nervous to perform in front of everyone, but I know that it will be a fun experience that we will cherish for the rest of our lives."
The week will kick off with "Minnie Movie Monday," when freshmen and juniors have the opportunity to participate in a Just Dance Disney edition in the Conference Room during lunch.
On "Twin Tuesday," juniors and freshmen will be able to dress as twins in Disney accessories such as tiaras, hats and socks.
Junior Kathryn Garcia said, "I'm most excited for Twin Tuesday because it's a great way to bond by dressing up with our little sisters. I hope that I can be a great sister and we get to know each other better through the next two years."
On "Wacky Wednesday," big sisters can fix up their little sisters' hair in the most creative and crazy styles they can think of.
On "Tinker Bell Thursday," juniors will provide bells for their little sisters to wear on their shoes, around their neck or in their hair. Additional accessories will also be worn, including fairy wings, puffy balls on their shoes and tutus. Pizza will be provided by the Junior Class for lunch.
On Friday, freshmen will formally be initiated into high school at the assembly as they dance in groups to Disney themes, including "Lilo and Stitch," "Frozen," "Tarzan," "Pocahontas," "Mulan," "Tangled" and "The Lion King."
Sophomore Brianne Agcaoili said, "Last year at my Freshman Initiation I had such a blast dancing even though I was a little nervous.  When I was standing in front of the entire school, I suddenly didn't care what others thought of me which helped me to gain more confidence."
About the Writer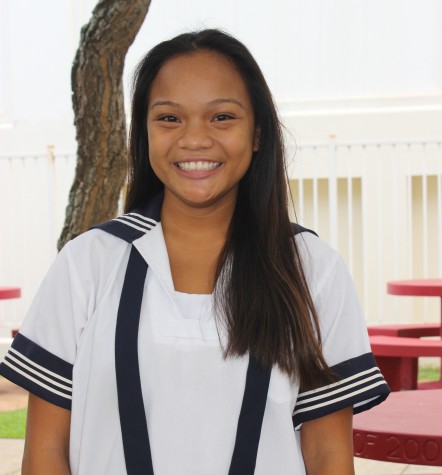 Janelle Medrano, Editor-in-Chief
Janelle Medrano is a senior and a third-year member of the Ka Leo staff. She enjoys dancing, hiking, snorkeling, and pogo-sticking. In her free time, Janelle...