Kaimuki's small businesses during COVID-19
Lyndon Okata, affectionately called "uncle" by his customers, has been taking lunch bento orders on a notepad for 40 years, and not even a pandemic has changed that. Long lines of customers still eagerly wait for their turn, as his fast but careful hands work dutifully to take orders and arrange local fusion in neat bentos. 
As other restaurants close at record rates in the islands, Okata Bento, like several small town Kaimuki businesses, have survived through the economic crisis caused by the COVID-19 pandemic. 
As a hole, or perhaps window-in-a-wall shop, Okata Bento is easy to miss. However, its unassuming location and seasoned status help it to remain a local favorite and lunch staple.
Lyndon Okata's son, Taylor Okata, says the COVID-19 pandemic has actually helped business. With customers shifting from dining-in to take-out, fast and quick to-go food seems to be the preferred dining method. "If anything, we've been attracting new customers from this," he said.
Kaimuki is one of Oahu's oldest neighborhoods. The row of shops facing Waialae Avenue, one of Kaimuki's most iconic scenes, has gone through many changes in its 100 years of history. Some shops, like Okata Bento, are so historic that they have lived through a family's generation. Others are new, opening their doors during an arduous year for business. 
Lyndon Okata opened Okata Bento in December 1981. Uncle Lyndon is a one-man show and very old school. His shop is cash only and he works everyday from 11 a.m. to 4 p.m. to feed his loyal customers.
Since the pandemic, Okata made the deliberate decision to not invest in digital and non-touch cash apps, even if it is a preferred method during a pandemic. Despite being open to such changes, Okata is skeptical of using new digital cash apps as it would increase their prices. By keeping everything cash-only, Okata is keeping prices low for his customers. 
" His shop has always been cash-only to keep prices low for his customers, and he's always taken orders on a notepad. It would be a huge challenge trying to have him change it up after 39 years. " Taylor Okata said. 
There are other ways being a small operation has helped Okata Bento's business continue to thrive during the pandemic. The government's mandate to restaurants to make a switch to take-out didn't phase Okata Bento, which has had a take-out menu since its origin, did not have to incorporate new dining etiquette into its eatery. His son remarks that his father has always run a "very tight ship," and since the pandemic, the only new protocol he incorporates is requiring masks, social distance in lines and keeping his take-out window nearly shut to avoid contact with customers.    
  Currently many restaurants are hurting in Hawaii. According to Hawaii News Now, one in four Hawaii restaurants are expected to not make it through the economic crisis. About 50 Hawaii restaurants permanently closed as of September, while  65% of Hawaii restaurants are expected to shut down in the next six months. Hawaii is among the states with the highest rate of total closures and permanent closures, making its high population of unemployment  and dependence on tourism vulnerable. 
Despite what seems to be a grim future for Hawaii eateries, Higoto Japanese Eatery's owners decided to open their new business in May, mid-pandemic. 
The owners specifically chose their location on Waialae Avenue for its proximity to the multiple schools next door. But with in-person classes limited this year, the customer base they were bargaining for disappeared.  
To address the issue, Mayumi Kurokawa said they decided to temporarily shorten business hours as well as consider selling platter products. 
Ultimately, Higoto has seen success since opening, with people lining up outside before they open to buy open their grab-and-go plastic-wrapped onigiri, hand-made bentos and seasoned side dishes. Kurokawa — one half of the husband-wife duo– believes that having a takeout eatery has worked toward their advantage.
"We were originally preparing as a take-out restaurant, so it was easy to adapt to the current situation, and I think it was easy for customers to try our product," Kurokawa said. "Some customers said, 'Thank you for opening this store in Kaimuki.' It is our reward to make our customers more happy." 
Kurokawa said they want to help play a part in revitalizing the local economy and are looking to hire more people.
"We would also be happy if we could help improve the economy and revitalize Kaimuki by hiring employees," she said.
Helping the local community has always been an integral culture among the eateries in Kaimuki. Though the future looks grim for small-business around the state, Okata Bento is hopeful for the future. 
"We are hopeful for the future, because of our amazing customers and regulars. My father has always been thoughtful of the neighborhood and locals – He's never tried to make his restaurant something specifically for tourists. It's always been about keeping it authentic, staying humble for our fellow locals, staying true to our ohana values, and the importance of community" Taylor Okata said. 
Leave a Comment
About the Contributor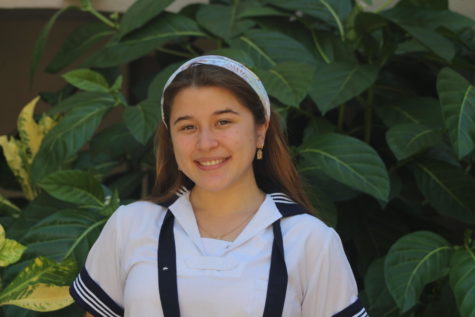 Ella blu Pakele, Reporter
Ella blu Pakele is a third-year Journalism student in her senior year. During her free time, she enjoys reading, trying new recipes, and going to the...