Rubber bands create sensation
Hang on for a minute...we're trying to find some more stories you might like.
This year loom-mania is sweeping the nation, and kids all over the country are weaving rubber band creations with the Rainbow Loom.
The Rainbow Loom kit consists of a plastic loom, rubber bands, a hand tool and c-clips. Kids are able to weave together the rubber bands to create bracelets, necklaces and key chains.
Cheong-Choon Ng, the creator of the Rainbow Loom, created this new craft from little colorful rubber bands and a simple loom. His Rainbow Loom has been nominated in three categories as the Toy Industry Association's Toy of the Year for 2014.
Freshman Brianne Agcaoili said, "I've been noticing that many teenagers are wearing these rubber band bracelets and I wanted to learn how to make them. When I finally found them in stores, I immediately bought my own kit."
The Rainbow Loom combines the craft with the once popular Silly Bandz plastic bracelets allowing kids to wear their own creations or give them away. Mothers, fathers, grandfathers and grandmothers also sport the colorful tokens of affection on their wrists.
Sophomore Geena Bruno said, "I'm always making and wearing any type of bracelets and it was only early this month when I began to make rubber band bracelets. When I first saw them in stores, I thought that it would be something fun to do and I decided what to make depending on the different colors that I thought that would match perfectly together."
The Rainbow Loom is a great fit for today's culture where people are creating and sharing. It doesn't require batteries or have anything that will break easily. It's a great and refreshing way for kids in many ways to do during their free time.
The trend right now is popular for children ages 7 to 14, and Ng expects that as children become older, their interest in these bracelets will die. However, he hopes those customers will be replaced by younger ones who will want to make rubber band items of their own.
Bruno said, "Since I already made so many for myself, I decided to make a bracelet for my friend that included her school colors. The new patterns make them fun to not only make, but wear, too. Since there are multiple colors to choose from, the patterns and designs are endless."
About the Writer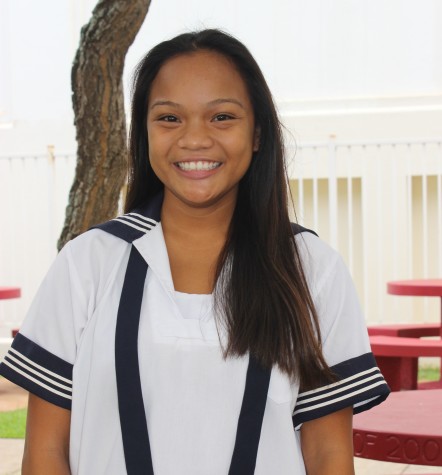 Janelle Medrano, Editor-in-Chief
Janelle Medrano is a senior and a third-year member of the Ka Leo staff. She enjoys dancing, hiking, snorkeling, and pogo-sticking. In her free time, Janelle...