Teens earn money fast by selling clothing online
Hang on for a minute...we're trying to find some more stories you might like.
Selling clothing on social media sites is a fast, easy way for teens to earn some money. Social media, including Instagram and Facebook  makes it easy for teens to communicate and makes it possible for them to get rid of their unwanted clothing.
Sophomore Shannon Domingsil sells slightly used and new clothing on her Instagram account, "ayyeshann_btq." Domingsil only sells clothing sizes x-small and small, which may include dresses, skirts, shirts, shorts, jeans and tank tops.
Domingsil said, "I decided to sell my clothes because I didn't use most of them and much of my barely used clothing was just sitting in my closet taking up a lot of space. I also realized that if I sold my clothes, I could easily make money."
With clothing prices constantly going up, teens shopping for great online deals makes sense. Through social media, teens can buy new, unused clothing for amazing prices.
Followers of Domingsil's Instagram boutique are able to buy great deals that range from $5 to $20, depending on what they want. Domingsil's delivery method is in person.
Domingsil said, "I will most likely continue to sell my clothes in the future because it's a really good way for me to earn my own money instead of having my parents give it to me."
Unlike Domingsil, sophomore Jessica Arista makes and sells custom-made swimsuits on Instagram in an account, "sirensandsurfers," that sells her handmade swimsuits.
Arista said, "I first decided to start making bikinis because I realized how expensive they are at stores. Since bikinis are really expensive, I wanted to make some for myself."
Arista's bikinis come in many different sizes. However, her pre-made swimsuits are usually sizes small to medium.
Arista said, "I make bikinis and one-piece swimsuits in many different styles. My handmade bikinis are either made with a solid color fabric or with a fabric that includes a design. I can also decide to make a bikini reversible or not."
To place an order, one emails Arista who works out a delivery method. If one wishes to buy both the top and bottom of a bikini, the price usually ranges from $35 to $40. However, if one buys either the top or bottom, it will range between $20 to $25, depending on the bikini style.
Arista began making bikinis earlier this year and just started selling them this past summer.
Arista said, "I try to make bikinis whenever I have the time, but I haven't made some lately. However, I really hope to have a future job in making and selling these bikinis."
About the Writer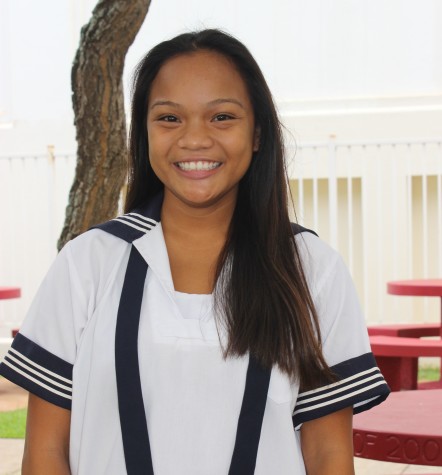 Janelle Medrano, Editor-in-Chief
Janelle Medrano is a senior and a third-year member of the Ka Leo staff. She enjoys dancing, hiking, snorkeling, and pogo-sticking. In her free time, Janelle...