Eco-friendly cafeteria moves away from disposable paper cups
Hang on for a minute...we're trying to find some more stories you might like.
Environmentally friendly actions have been taken in the Clarence T.C. Ching Student Center as students returned to school on Aug. 12.
On entering the cafeteria, students will recognize that paper cups are no longer being provided to be more eco-friendly. Sodexo asks students to bring their own refillable bottles.
Sodexo's General Manager, Erin Awai, adapted the change to be more eco-friendly. Sodexo is recognized as a global sustainability leader, with its adopted "The Better Tomorrow Plan," a continuous improvement approach to guide everyday actions.
Awai said, "Last year our hydration stations reduced the amount of recycled bottles and increased the amount of trash that was being throw away every day. Every week, the entire school threw away about 2,000 cups.
"I felt like it would be a positive change to eliminate cups and also teach students to byob (bring your own bottle.) Most college campuses have hydration stations for students to refill their water bottles for free. So, why not start this practice now?" she said.
Awai noticed that most students have been bringing water bottles to school or buying bottled water from the cafeteria and refilling them throughout the school day.
Awai said, "The lower school students had a positive response to the change and started to bring and refill their water bottles from home. However, I received some mixed reactions and comments from the middle and high school students. "
Sophomore Elizabeth Fischer said, "I think it's a reasonable decision. Last year, I recognized that many of the paper cups were being wasted. Since the cafeteria doesn't provide paper cups any more, they are able to save money and stop the waste of paper cups."
While many students think that it's a great idea towards helping the environment, some were questioning the change due to its inconvenience.
Sophomore Kathryn Garcia disagreed. "I don't like how they don't provide cups because it's really inconvenient. I know it's a good idea for going green, but it causes students to spend more money on something that used to be given."
Awai responded by saying, "We are starting an eco-friendly step toward reducing our trash here at Sacred Hearts. If you bring your own bottle, it'll reduce the waste of paper cups and increase the amount of bottles recycled."
Freshman Brianne Agcaoili said, "I feel that it is better for the environment and school because I noticed that we used a lot of paper cups last year. By not providing cups, students are encouraged to bring reusable bottles and I think that is the best solution. However, I sometimes forget to bring my water bottle and I hate having to go to the nearest water fountain."
Awai said, "In general, I think that it's a positive change. I believe 'sustainability' or 'eco-friendly' is a change everyone needs to embrace and do their part for the bigger picture."
Sacred Hearts Academy hopes to further help the environment with this new procedure.
About the Writer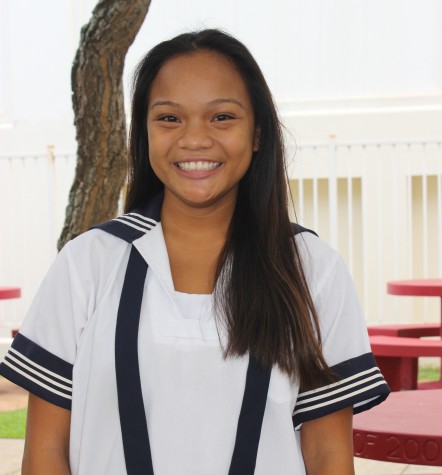 Janelle Medrano, Editor-in-Chief
Janelle Medrano is a senior and a third-year member of the Ka Leo staff. She enjoys dancing, hiking, snorkeling, and pogo-sticking. In her free time, Janelle...