Sophomore travels to Okinawa to attend local school
Hang on for a minute...we're trying to find some more stories you might like.
Sophomore Theresa Ginter travels to Okinawa regularly to visit family.
"I travel to Okinawa every two years to visit my mom's side of the family. However, this past summer I had the opportunity to attend Miwa Middle School," Ginter said.
"Since I was visiting Okinawa for about a month and a half, my parents decided to put me in a local school for more than two weeks. Since my mom is from Okinawa and I have spent a lot of time there, I was actually interested in attending school. I was born in Okinawa and moved to the United States when I turned 1, but I moved back to Okinawa when I was 5 and lived there until I was about 10. Since I live in Hawaii, I usually return to Okinawa during the summer," Ginter said.
Ginter went to school from 8 a.m. to 4 p.m., attending several traditional classes.
"When I first entered the school, I felt a bit different, but it wasn't a terrible feeling, it was more of a good sign. I remember that my first class was very relaxed and my teacher was chill. I also had a lot of friendly classmates, and they made me feel welcomed.
"When I first participated in class, I realized that I was sort of dumb and that I needed to study kanji more in order to catch up to other kids my age. Since all my classes were in Japanese, I can proudly say that I gained the ability to speak better than before," said Ginter.
Ginter was able to observe their track and field day where she joined in the fun.
"It was a great feeling participating in track and field again," she said.
After school, Ginter spent time with her new classmates at a nearby shopping mall.
"I thought that was super cool because I didn't know a lot of people at this school, but by spending time with them, I managed to make new friends," said Ginter.
"There wasn't a lot of differences between this school and the other schools I attended, but I do recall some different actions performed by the students," said Ginter.
Many of her classmates prepare food and distribute it in bowls. After lunch, students cleaned different parts of the school for about 20 minutes.
Ginter said, "Cleaning parts of the school also reminded me how students have work study. I came to realize that this school wasn't as different as I expected."
About the Writer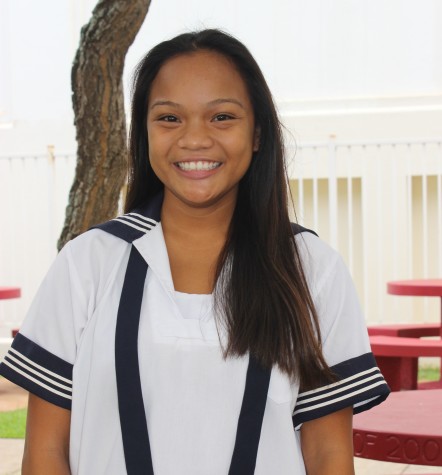 Janelle Medrano, Editor-in-Chief
Janelle Medrano is a senior and a third-year member of the Ka Leo staff. She enjoys dancing, hiking, snorkeling, and pogo-sticking. In her free time, Janelle...