Youth wants service to be social
Hang on for a minute...we're trying to find some more stories you might like.
The students watched nervously as the "On Air" signal flickered to life–a cue for an orchestra of ringing telephones begging to be answered. It was Hawaii Public Radio's (HPR) semi-annual pledge drive this weekend, and Sacred Hearts Academy students were part of the action.
"Although it was a small thing, I feel like I did make a difference for Hawaii Public Radio," senior Mariko Galton said. As of this date, the exact amount of monies raised has not yet been finalized.
As part of the HPR event, Galton spent a few hours on Saturday morning answering phone calls and learning more about how pledge drives keep community-supported radio stations, like HPR, in operation.
But those few hours were just a small portion of Galton's contribution to the community. So far this year, she has completed more than 100 hours of service from a range of events both in and out of school. And while the satisfaction of giving back to the community is appealing to her, so is being able to work alongside her peers–a sentiment echoed by a recent study.
Volunteering with friends
A survey, conducted by online community service resource DoSomething.org, found that young people are more likely to volunteer if their friends do. It was the first comprehensive national survey on how young people take action to create social change with data from more than 4,000 adolescents between the ages 13 and 22.
"I think service is not always about working alone, but with others, who believe in the same values you do," Galton said. "It's about being with others and serving a common goal or issue."
At the Academy, Director of Student Activities Cleo Eubanks assists with coordinating service projects. She was also supervising the group of students at HPR's pledge drive this weekend.
"I think it is less intimidating to show up at a volunteer venue when you know someone there (because) it's also a lot more fun," Eubanks said.
Loading ...
Closing the gap
According to DoSomething.org, 93 percent of teens say they want to volunteer but only a small percentage does. The goal of the survey was to gain insight on how to close that gap.
At the Academy, Eubanks and teachers from the theology department helped to lessen the gap. They supervised more than 33,800 service hours for students last school year.
"(Students volunteer as) ushers for school plays, student guides or helpers for school events, like admissions events, open houses or the Science Symposium," said Leilani Asuncion, a teacher for the theology department and the adviser for the class of 2019.
However, most students seek out opportunities themselves. According to the survey, 66 percent of youth volunteers are more likely to get involved by talking to people than by referring to social media or websites.
"I agree with this statistic because those 66 percent of youth volunteers reached out to a 'medium' in which they were comfortable with and (could easily) access," junior Taylor Rayray said.
Rayray has earned more than 300 hours of service this school year and says she typically learns about service opportunities from members of her church. She serves as a Catechist Assistant and helps with the youth ministry program. She also volunteers at school, as a member of the Leo Club and the National Honor Society.
Both Rayray and classmate Galton enjoy the social aspect of volunteering alongside peers, stating that it is what helps youth to become more connected to each other and the community they serve.
"Putting oneself out there may be a risk," Rayray said. "But the social connections that (we're) making with the world and other people…are what connect us all, in one way or another."
About the Writer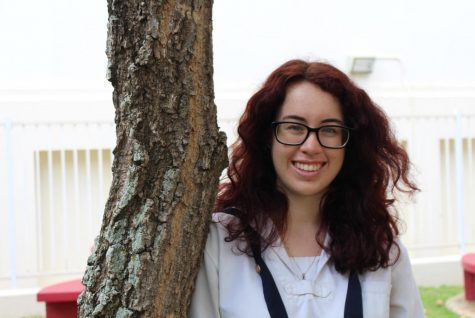 Taylor McKenzie, Webmaster, Reporter
Taylor McKenzie is currently a senior and a second-year Journalism student. She is the Vice President of Student Council, President of PAAC Club, member...