FOODIE FRIDAY: Glazer's Coffee
Hang on for a minute...we're trying to find some more stories you might like.
Glazer's Coffee is a much needed alternative to the onslaught of bland coffee shop chains. With options, such as cold brews, hazelnut lattes and chai teas, there is a soon-to-be-favorite for everyone.  
Located near the University of Hawaii at Manoa, this coffee haven is more than just an oasis for delectable drinks; it is a place with a personality of its own and a palpable love for all things antique. Vintage cameras, antique radios and monochrome photography books can be found scattered throughout the shop.
It is a shop that is best described by its quirkiness, a characteristic also shared by some of its recurring customers. On any given day, there will be an artist letting loose their creativity at the coffee bar. These artists range from effortless watercolor painters to the more elusive hipsters.
Besides the coffee shop's decor, the drinks capture the hearts and minds of all who see and taste them. Glazer's Coffee is known for its incredible latte art, and for good reason, too. Their drinks are canvases for anything the baristas can imagine, from classic hearts to cute bears and bunnies. Some lucky lattes have even been gifted with the phenomenal recreation of a beloved animated character: Totoro.
Taking a sip and ruining the masterpiece is an inconceivably difficult task but one that all coffee lovers must bring themselves to commit. From the first sip, it only gets better; imagine the faintest taste of hazelnut, blending with a hint of vanilla, to create a truly revolutionary masterpiece. Imagine every drink possible, mocha valencias, maple lattes and macchiatos, all brewed to perfection.
The art doesn't stop with the offbeat customers and lattes; covering every wall and window are unique masterpieces. There are five different collections of art, which include: three paintings featuring a collage of raindrops and sheet music, mandala-esque animal renditions, photography from Charisma Industries' museum exhibit and on a separate wall, a selection of polaroids of customers enjoying their drinks.
The only downside of this much loved coffee shop is the lack of food. There are a few snacks, but their quality was underwhelming. To satiate your hunger, venture to the new Koa Pancakes restaurant, which recently opened next door.
If you are looking for a break from the classic frappuccino, give Glazer's Coffee a try. Warning: you will fall in love with this quirky coffee shop and will never be able to enjoy coffee shop chains the same way ever again.        
Glazer's Coffee is located on 2700 S. King Street, Honolulu, Hawaii 96826. For more information, visit the shop's website at http://www.glazerscoffee.com/.
About the Writer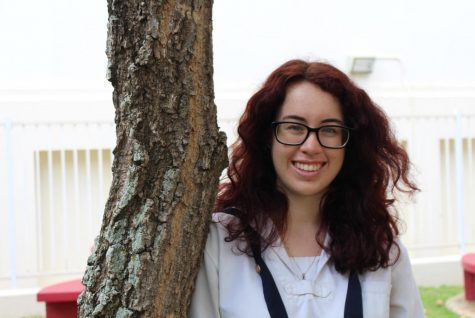 Taylor McKenzie, Webmaster, Reporter
Taylor McKenzie is currently a senior and a second-year Journalism student. She is the Vice President of Student Council, President of PAAC Club, member...