Hawaii's youth lose interest in sports during pandemic
When the COVID-19 pandemic hit two years ago, every touchdown, strike and goal was blocked by the tough defense that came in the form of a deadly virus. The cancellation of organized sports forced student athletes off the fields and into a downward trend of youth who decided they wouldn't go back.
Research shows that 28% of youth who played sports pre-pandemic no longer want to participate, up from 19% in June 2020. The State of Play report, by Aspen Institute, surveyed sports parents of 6 to 18 years olds on attitudes and behaviors before and during the pandemic. 
Kicking away the soccer ball
Sacred Hearts Academy senior Sydney Bump grew up playing soccer and dedicated most of her high school career to the sport. But even after sports in Hawaii resumed in the spring of 2021, the 17-year-old chose to leave behind her soccer cleats for her schoolbooks and improved mental health instead. 
"I no longer felt like this sport was benefitting me in any way, so I decided to stop and focus on fixing my mental health and picking up new hobbies," she said. "Although I do miss the sport, (not returning) was one of the most freeing experiences. It has felt like such a huge amount of pressure to perform has been lifted off of me." 
Bump started soccer at six years old, winning tournaments throughout her young athletic career. As a freshman at the Academy, she was part of the Interscholastic League of Honolulu (ILH)'s all-star first team.
Prior to the pandemic, she spent sleepless nights doing schoolwork and tackling depression. She said poor treatment and pressure to win contributed to her "falling out of love" with soccer. Bump continued playing because of her teammates. 
Now she enjoys spending her free time video gaming. It's a hobby she picked up during the state's first lockdown two years ago. Bump said she welcomed having her "first break" from routine, including soccer practice. 
But choosing not to return to the field meant less physical activity. According to the Centers for Disease Control and Prevention (CDC), obesity among American children increased during the pandemic from 19% to 22%.
Bump became part of the statistic. She said without the frequent conditioning or careful eating habits, she did gain weight but finds herself to be "in a better place mentally and physically, in comparison to that first quarantine."
Similar trend fumbles into the arms of Hawaii athletes 
In the spring of 2021, the ILH resumed sports after the pandemic halted them the year before. More sports, like bowling and basketball, started up the following fall season. By winter, almost all of Hawaii's student athletes returned to the fields and courts.
The rosters for Hawaii's high school sports teams echoed those of youth sports teams nationwide. The number of participating teams in the Hawaii High School Athletic Association (HHSAA) shows a dwindling difference to pre-pandemic numbers. This is according to a 2021 HHSAA report emailed to Ka Leo. 
Competitive cheerleading faced the highest loss of 12 teams, down 33 from 45 high school teams last year. Player rosters for sports with more participants, like football and basketball, remained steady due to higher interest and individual participation, according to the report.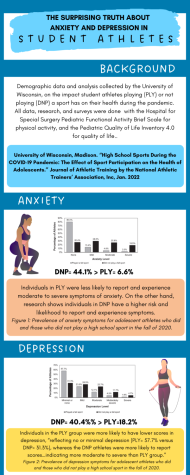 The Academy has earned three state titles and three national cheerleading titles. Still, Athletic Director Ryan Hogue has also seen shrinking numbers in the cheerleading rosters. 
"We have seen more kids lose interest in sports. Some are playing less sports, (while) some are not playing at all," Hogue said. "We see kids who​ are capable of participating and helping a team but choose not to play sports."
Hogue said that despite the incentive to earn college scholarships, "Only 3% of high school (athletes) go on to play in college." However, athletic scholarships, he said, should not be a driving force to play. Students should play a sport because it is an "amazing tool for teaching life skills." 
With the Academy being an all-girls institution, Hogue said mental health awareness is particularly important. According to the American Psychological Association, females have a higher risk "to be diagnosed with anxiety or depression." Hogue conducts regular student-parent meetings and discussion panels. He reinforces the seriousness of mental health for all student athletes, as well as the importance of returning to a healthier lifestyle after the pandemic disrupted health and wellness for many.
Executive Director Chris Chun, of HHSAA, addressed the issue of mental health for Hawaii's student athletes. 
"(Mental health) took a big toll on us emotionally, including myself," he said. "Some people can adjust to the pandemic better than other people. But (it's difficult) being locked up at home and having to adjust (to the) transition of being alone and surrounded only by family."
A shot towards hope
Life has been better for those student athletes who returned to playing a sport after the COVID-19 shutdown. According to the State of Play report, 49% of parents said their child's mental health has improved since restrictions have been lifted on sports. This includes better physical fitness, emotional control and social well-being. 
When sports resumed in Hawaii, Saint Louis School (SLS) junior Matthew "Matty" Malepeai returned to the field as the football team's defensive lineman and linebacker.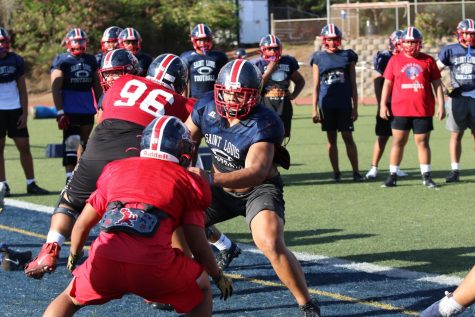 When it comes to mental health, Malepeai shared the struggles he faced at the start of the pandemic. Having to undergo two surgeries on both knees, he explained the drastic extent of his mental health deteriorating. He said both the pandemic and his physical setback worsened his depression. 
But for him, returning to play football was never in question. It is a commitment to which he has always given his full dedication and heart. To keep up with the consistency of year-round training, despite the state's closure, Malepeai was able to work out from home, at community parks and around his neighborhood. 
HHSAA's Chun encouraged Hawaii's coaches to reach out to student athletes and host virtual practices. Many sport programs, including the Academy's basketball teams, offered the virtual sessions. Malepeai explained that the football program didn't host any virtual practices or workouts.
During the lockdown and recovery from surgery, video gaming became one of few activities to draw Malepeai away from depression and from missing football. Despite the increase in his new passion, Malepeai is still able to differentiate the balance between the two.
His interest in video games is almost as big as his passion for football, but Malepeai said that he "will pursue and continue (his) commitment and dedication in football for the sake of his future and happiness."
Leave a Comment
About the Contributor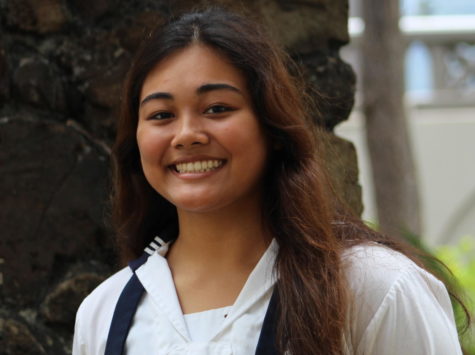 Isabella Savea, Reporter
Isabella (Izzy) Savea is a second-year Journalism student and senior at the Academy. This school year, she hopes to learn new ways to put her creative...