Educating generations of girls
Ring-a-ding-ding!
The morning bell chimes at 7:35 a.m., signifying the start of another school day at Sacred Hearts Academy. A sea of more than 850 female students, dressed uniformly in blue and white, pile out of their homerooms and are greeted by Head of School Betty White.
As she stands at the top of the staircase in her favorite rouge-colored blazer, White gazes through the crowd with a sense of pride; she is reminded that her 69-year-journey as a Lancer is drawing to a close. 
Shaping the Academy
The Virginia native, who has become a leading figure in Hawaii's Catholic community, will retire in July. White came to the islands straight out of college with her husband; she joined the Academy as a social studies teacher for 48 years before becoming head of school.  
Under her leadership, the 74-year-old helped shape the Kaimuki school into becoming Hawaii's largest all-girls Catholic school. She said it took patience and prayer, as the Catholic community faced changing times.
The closure of a neighboring Catholic school hit close to home for the Academy. Saint Francis School, formerly an all-girls school, announced it would shut down its Manoa campus at the end of this school year due to financial troubles. The school began accepting boys in 2005 to increase enrollment. Damien Memorial School also transitioned to a co-educational institution in recent years.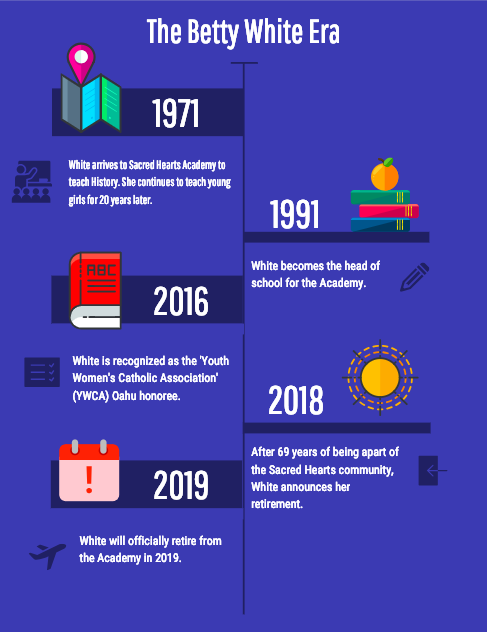 When the community looked to the Academy and its standings as an all-girls school, White's deep-set blue eyes said it all; they reassured her fellow Lancers that, regardless of the obstacle, the spirituality and mission of the school would remain intact.
Today, it is one of two all-girls schools on Oahu and has since graduated more than 12,000 women.
In the 1970s, White also navigated the transition from a faculty of mostly members of the religious order to lay teachers. The shift brought about new financial challenges, as it would now pay the faculty annual salaries. Faculty from the religious order worked for a small stipend.
"For the school to survive economically and financially was a big challenge," White said. "About 80 percent of our tuition goes toward paying staff, so that's definitely the biggest challenge that the Academy went through."  
Nearly five decades later, and the school has continued its operations under White's steadfast guidance, with more than 120 faculty and staff members. Two nuns remain on staff.
The Academy, with preschool to grade 12 enrollment, has also been recognized as a National School of Character based on its values and education. This includes 60,000 hours of community service performed annually by the students.
"There is a gift in being in a single-gender school," theology teacher Leilani Tagupa-Asuncion said. "Me being (a graduate), I was able to find my voice and to concentrate and focus on my studies."
Passing the torch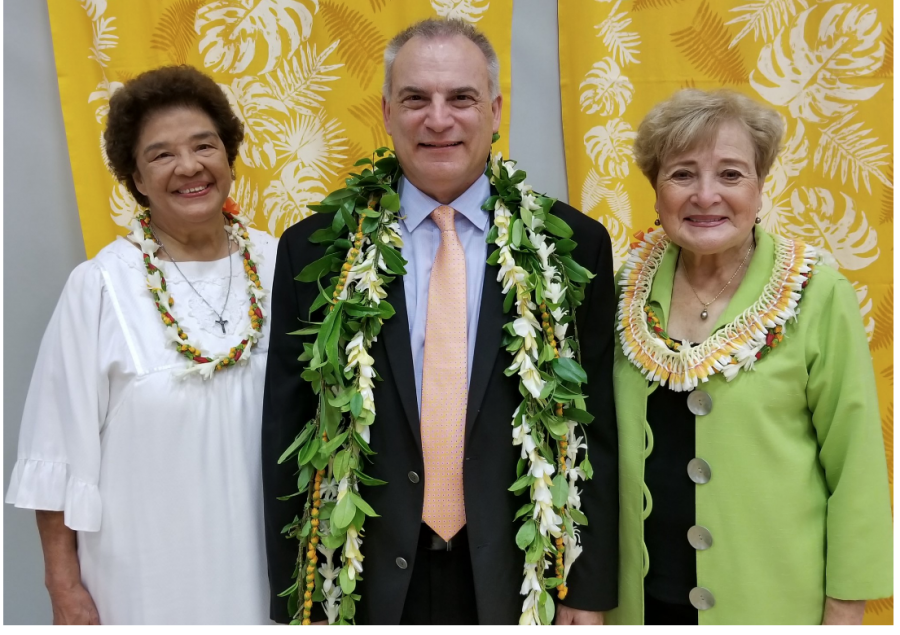 White is often the first person on campus every morning, starting her day hours before sunrise. And as she moves closer to retirement, she prepares for another change–welcoming the Academy's first male head of school in its 110-year-history. A familiar face in the Kaimuki neighborhood, Dr. Scott Schroeder will begin his term on July 1.
After a nationwide search launched following her announcement last year, the Academy selected Schroeder. He has served as an Academy board member since 2013 and is Chaminade University's School of Business and Communication professor of management and dean. He stepped down from the board in October to apply for the position as head of school.
"I am tremendously honored to be appointed head of school and eager to work with Academy faculty, staff, parents and alumnae to ensure the school provides its students the best that a Sacred Hearts, Catholic education offers," he said.
According to White, the Academy will continue its mission to empower women in making an impact on the world. Schroeder's appointment further proves, she said, the collaborative efforts of both males and females in today's society.
"(I want to) encourage him to always focus on the students," she said. "Help them realize that they are in a very powerful position to change the world for the better."
Moving into the new age
Keen on technology and new-age advancements in education, White oversaw the addition of many campus fixtures. These included the Clarence T.C. Ching Student Center, which serves as the cafeteria and after-school care center, the Nobriga Gymnasium, Mother Louise Henriette Performing Arts Center and several science and computer labs.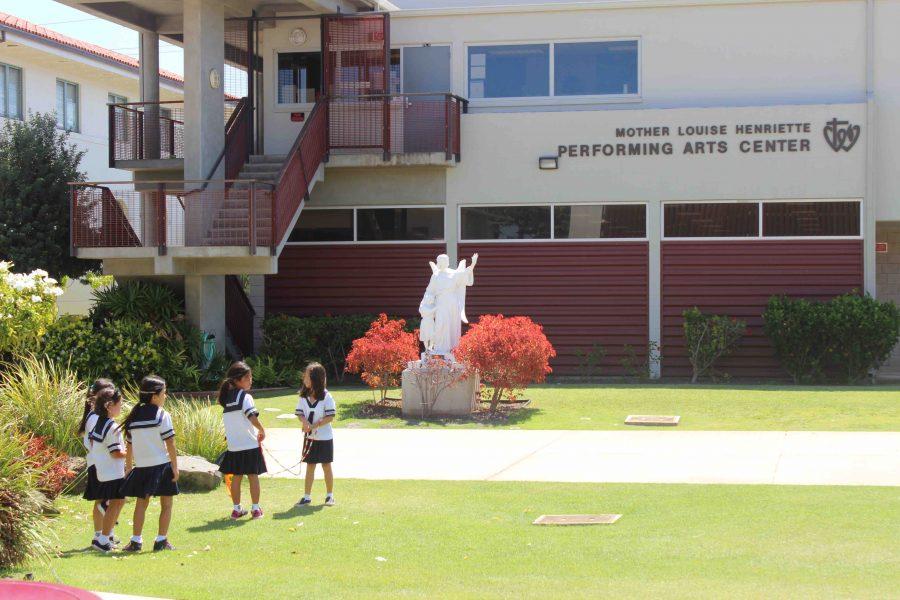 "Over the years, I have seen (the performing arts center) become more than just a place to practice for band," senior Lauren Chun said. "I hang out there everyday and eat lunch there with my friends."
Chun has been a member of the Academy's band program for more than six years. She is currently the band president and marching band section leader.
"Through our band program, I was able to connect with my community," she said. "I was presented with the opportunity to play with the Honolulu Wind Ensemble (HWE), a community band."
HWE practices in the Academy's performing arts center and shares instruments with the school.
The Academy's community outreach continued with a collaborative performance with HWE earlier this year. They dedicated the concert to White, who has been a continued supporter of the band program.
Her support and outreach can also be seen in the annual Science and STEM Symposiums, which invite girls in the community to learn more about science, technology, engineering and math. Experts from across the globe present at these free conferences.
In addition to campus fixtures and events, one can be sure to spot White's brightly-colored outfits in a sea of Lancer athlete fans. This year, and for the first time in decades, the Academy brought home multiple state and national wins; these included championships in volleyball, cheerleading, canoe paddling, riflery and wrestling.
"I appreciate how she always takes time to attend school events that are both on and off campus," English teacher and alumna Rosalynn Cambe said.
Still dreaming of teaching
In 2016, the Young Women's Christian Association (YWCA) recognized White as the most outstanding woman of the year. She also served as a trustee for the National Coalition of Girls Schools.
Although she enjoys her time as an administrator, White's best memories are from her time as an educator.
She says her passion for youth education began when she was in elementary. She often babysat the children in her neighborhood, as well as a few of her six siblings.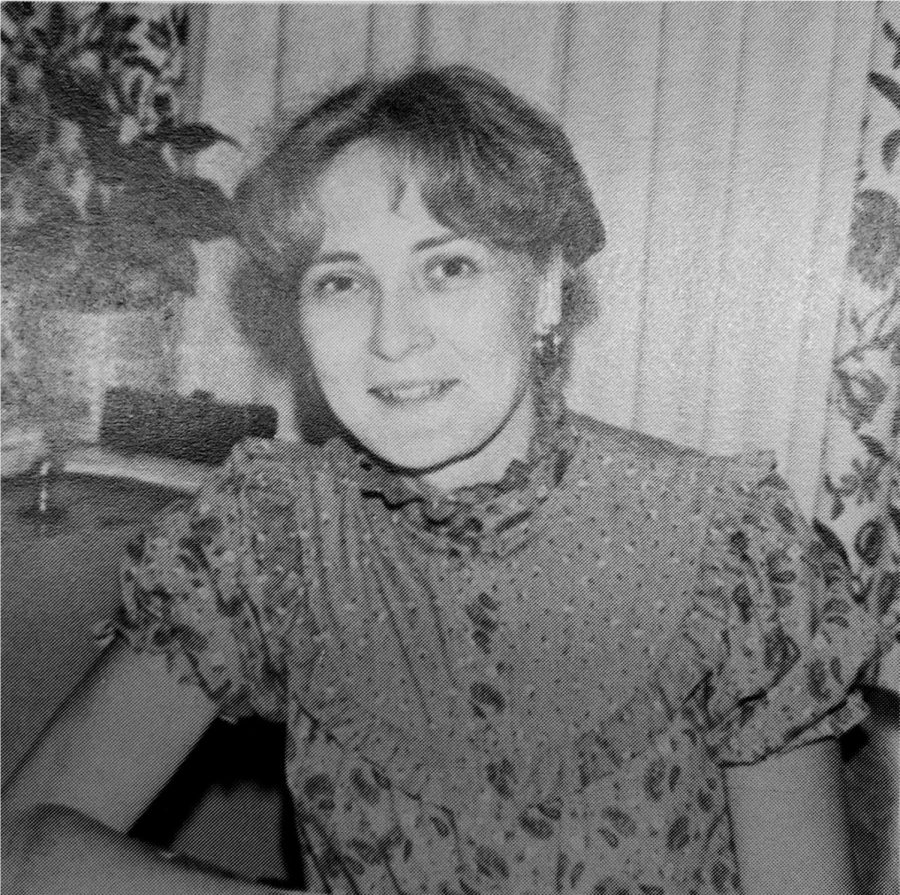 "Teaching was my passion," said White, who graduated from an all-girls college in Virginia. "As a teacher, my relationships with students were strong and endearing. In fact, I still dream of teaching."
One of her fondest memories as a teacher included an interactive game that established her own Model United Nations. Without a gym and having a class of about 100 girls, White would separate students into countries. They gathered in groups across the street, at St. Patrick's Catholic School's gym.
White enjoyed the one-on-one relationship she makes with students and still thinks of herself as a teacher.
Senior Logan Shiroma has been a Lancer since junior Kindergarten.
As the student council service director, she has gotten to know White very well.
How has Mrs. White inspired you?
Sorry, there was an error loading this poll.
"She's not just a principal…she makes sure to attend all our events to support us as a student and not just the student body," Shiroma said.
During her sophomore year, Shiroma recalls White encouraging her future endeavors. Her mother wanted Shiroma to stay home for college, due to financial impediments. However, White inspired her to branch out.
"(White) looked at me and said, 'You should go away. The opportunities on the mainland are great," Shiroma said.  
Next fall, Shiroma will attend Woodbury University in California and major in architecture.
Expanding across countries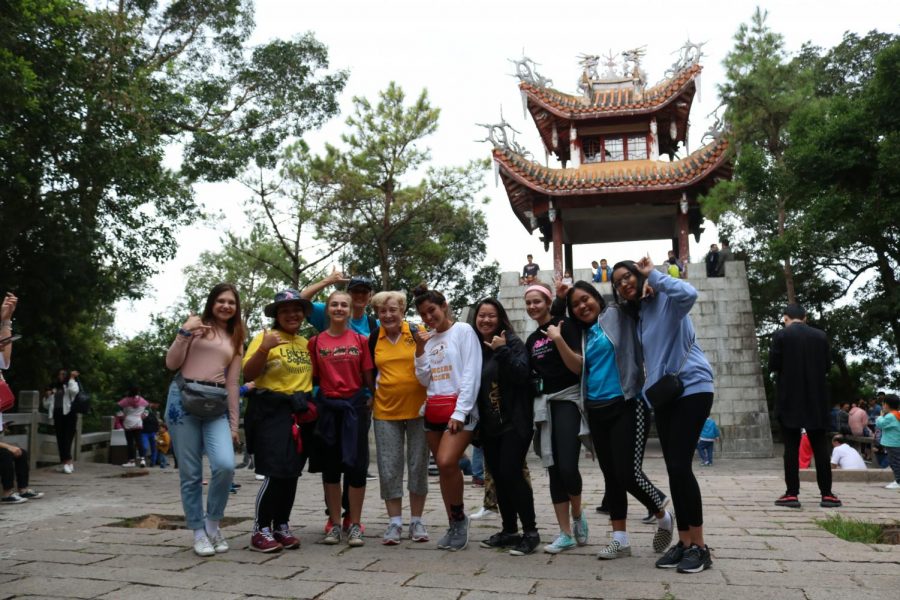 White encourages students to explore different opportunities across the globe as well. 
In 2018, she accompanied nine high school students to China. The group participated in a cultural exchange with students at Hwa Nan Women's college.
Also, this year, the Lancer robotics team participated in worldwide robotics tournaments in Japan and Australia.
Enjoying her final days
As White reflects on her first years at the Academy and how far she's come, she said that her decision to move to Hawaii with her husband and three children was one she will never regret.
"Sacred Hearts Academy is the perfect place to work," she said. "I thought that way in 1971, and I feel that way in 2019."
While White hopes to spend time with her husband, children and grandchildren, she said she will hold on to the memories made at the Academy and keep the Lancer spirit close to her heart.
A Q & A with Sacred Hearts Academy Head of School Betty White, who is ending her 69-year-legacy at the all-girls Catholic school in July. VIDEO BY: Martha Nicholas.
Leave a Comment
About the Contributors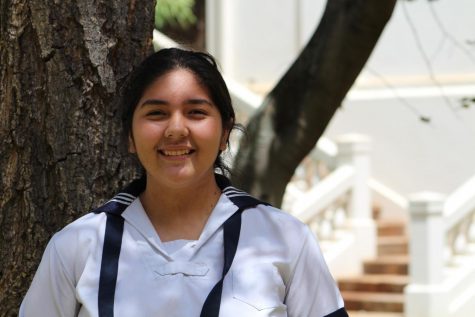 Shelby Mattos, News Editor, Reporter
Shelby Mattos is a senior and third-year Journalism student. She is the Publicity Chair for Division Council and participates actively in the Academy's...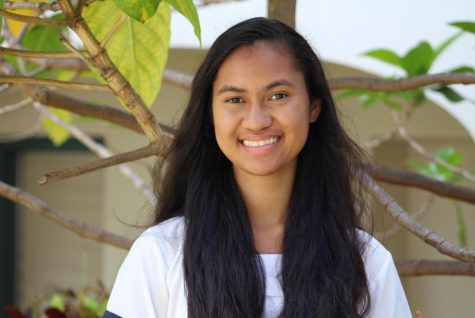 Martha Nicholas, Media Editor, Reporter
Martha Nicholas is a third-year Journalism student in her Senior year. Being a student journalist means being the school's messenger. It's a journalist's...