Sections bond at band social
Sacred Hearts Academy's marching band held its annual social on Sept. 22.
Members of the marching band enjoyed activities that are played every year, such as musical chairs, marching drills and a scavenger hunt.
Every student, except for section leaders and the drum major, participated in drills during which they had to do facings learned at band camp and during practices. Academy freshman Catherine Loiselle won the drills competition by following the orders given to her by drum major senior Kacey Chong.
"I liked how (lower classmen in marching band) get to communicate with the upperclassmen and how we have fun as a band and throughout our sections," Loiselle said.
After the drills, students participated in a scavenger hunt. The activities correlated with the marching band. The scavenger hunt started when sections marched toward each other with a cup full of water. The objective was to avoid spilling any water.
Throughout the hunt, section leaders led different games. Once students won that particular game, they were given a clue as to where the next section leader was.
There were also games that related to music, such as musical twister. This game required players to put their hands on specific musical notes on the ground.
When students came back from the scavenger hunt, they worked in their instrument sections.
They also worked on their piece of the banner. Each section received a piece of paper to decorate with drawings and signatures. After each section was finished decorating, the marching band came together to put the different pieces into one banner.
Leave a Comment
About the Contributor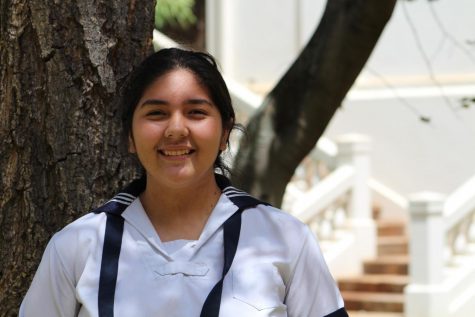 Shelby Mattos, News Editor, Reporter
Shelby Mattos is a senior and third-year Journalism student. She is the Publicity Chair for Division Council and participates actively in the Academy's...