One-thousand paper cranes to fly with band students
As spring break approaches, Sacred Hearts Academy's band program is preparing for its biennial band trip, and this time, they're not going empty-handed.
One-thousand paper cranes will accompany the group of 39 students and their chaperones. The cranes will be presented to the Hiroshima Peace Memorial Museum, which is dedicated to the atomic bombing in Hiroshima during World War II.
In Japanese tradition, 1,000 paper cranes represent the will of gods to grant someone a wish.
The band, including those who won't be traveling to Japan, learned about Sadako Sasaki's story, which began during World War II. During this time, America dropped atomic bombs on the towns of Hiroshima and Nagasaki, Japan.
Sasaki was one of thousands whom had been exposed to radiation from the bombs. But when Sasaki developed leukemia from it, at the age of 12, she was inspired by the legend of paper cranes.
She began making paper cranes in the hospital. It is said that Sasaki made 1,000 paper cranes and even continued additional ones, when her wish was not yet granted.
After hearing the story, the Academy students were given 10 pieces of white and gold origami paper. Inside of each crane, students wrote positive messages, such as "Aloha from Hawaii, "May there be world peace" and "Keep my family healthy."
In addition to the crane presentation, the tour will give students an opportunity to explore Japan and its history. They will attend a performance by the Osaka Philharmonic Orchestra, allowing students to develop a higher level of musical understanding.
The Academy's Band Director Keith Higaki will be accompanying the group.
"I'm excited to be able to bring the band students to a culturally-rich country, such as Japan," Higaki said. "Students will experience different foods and learn about American history through the Hiroshima bombing."
Leave a Comment
About the Contributor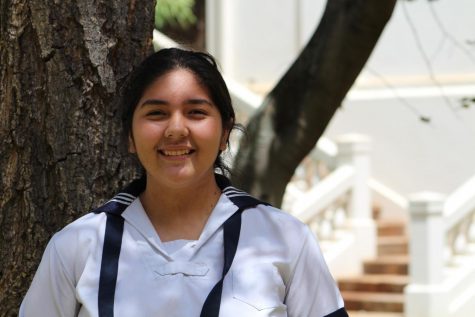 Shelby Mattos, News Editor, Reporter
Shelby Mattos is a senior and third-year Journalism student. She is the Publicity Chair for Division Council and participates actively in the Academy's...