Chatting with friends in North Carolina
While the Sacred Hearts Academy high school students prepared for semester exams, some lower school students connected with a school in North Carolina.  
Students from Melody Coloma's third grade class video chatted with Carolina Friends School, which is more than 4,600 miles away from the Academy's campus in Honolulu.
Coloma's class learned what it is like to go to school on the east coast. They also found out about the weather.
Coloma's class asked the third and fourth graders in North Carolina about their lives, and in return, students at Carolina Friends School asked about life in the Aloha State.
Academy students shared the aloha by teaching the mainland students about the shaka, the Hawaiian version of the 12 Days of Christmas and what it is like to live in Hawaii.
Lower School Librarian Laurel Oshiro said the Skype call was a success between the Hawaii and North Carolina schools.
Leave a Comment
About the Contributor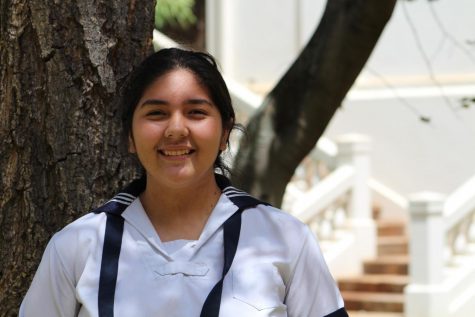 Shelby Mattos, News Editor, Reporter
Shelby Mattos is a senior and third-year Journalism student. She is the Publicity Chair for Division Council and participates actively in the Academy's...