Sophomores celebrate to the tune of giving
Sophomores at Sacred Hearts Academy got into the spirit of giving by celebrating others for their division week. The theme of their week was "iTunes: Sophomore Edition," in which each day of the week was named after a song.
For example, the week kicked off with a theme of Milkshake Monday, inspired by artist Kelis' song "Milkshake." For this day, sophomores and administrators enjoyed chocolate and vanilla milkshakes from McDonald's.
"I really liked the drink," sophomore Christina Dang said. "I am lactose intolerant, so they had smoothies for me. I like the idea of sharing (with the other divisions and teachers)."
On Tuesday, the class members celebrated their relationship with the school by giving sweets to students and teachers. The day's featured song was "Celebration" by Kool and The Gang.
"I thought (Sophomore Week) was nice," sophomore homeroom teacher Rosalynn Cambe said. "I liked celebrating (treats with) everybody. It was unexpected and special for everyone."
Wednesday was inspired by Anna Kendrick's "Cup Song." Students participated in a flip cup challenge during homeroom and recess. Finalists from the challenge received an iTunes gift card to match the week's theme.
"Hero" by Sterling Knight inspired the final day of Sophomore Week. Sophomores were allowed to dress up as a hero if they donated a book or stuffed animal. The drive helped collect more than 400 books and 100 stuffed animals. The book and stuffed animal drive ended the day of the Sophomore Retreat.
Seniors worked hard to create a successful retreat for sophomores to enjoy. The LIFE team used the theme of H.O.P.E. to help sophomores "Have Only Positive Expectations." Sophomores at the retreat were able to enjoy fun bonding activities, like a word hunt to find happiness.
Leave a Comment
About the Contributor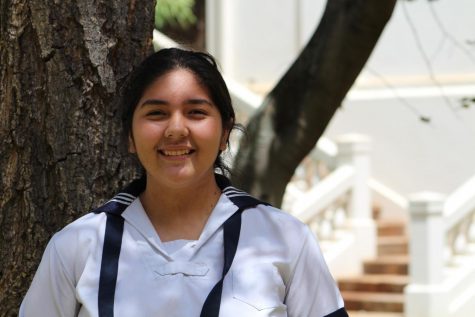 Shelby Mattos, News Editor, Reporter
Shelby Mattos is a senior and third-year Journalism student. She is the Publicity Chair for Division Council and participates actively in the Academy's...