Move over kimchi, tteokbokki's in town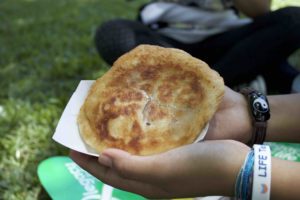 Hungry customers at the 15th Annual Korean Festival got more than their fill at the event. But it was the tteokbokki and hotteok dishes that got the most attention. The traditional Korean dishes were among the most popular at the festival, inviting crowds of patrons to wait in long lines.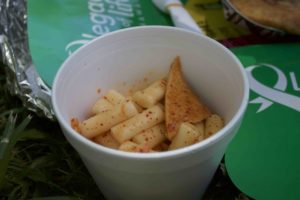 Tteokbokki, a chewy rice cake, is mixed generously with a red chili pepper paste, or gochujang. Hotteok, also known as a Korean pancake, is a sweet, chewy and warm dish.  
Other dishes included Korean sushi, kalbi and meat jun. Academy sophomore Rebecca Meyer enjoyed the tteokbokki and Korean pancake.
"The tteokbokki was nice and chewy," she said. "It was a little less spicy than I would've thought."
Grant Sato, culinary arts teacher at Kapiolani Community College, held a food demonstration on how to make a mini rice bowl.The mini rice bowl consists of rice, kimchi and a choice between dakjjim, braised chicken and vegetables, or pork and tofu chige. Sato won the 2015 Global Taste of Korea competition.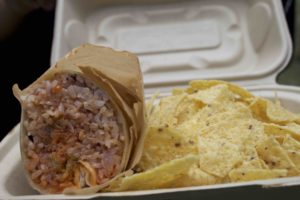 Following Sato's cooking show was a kimchi and ja jang myun eating contest. Ja jang myun is a Chinese/Korean-based black bean noodle dish. Festival-goer and senior Kailani Ablog describes this dish as, "a delicious bowl of yin and yang because the noodles mix nicely with the black paste."
The kimchi burritos were also very popular at the festival. "The burritos had more rice than kimchi, making it taste like spicy pork," said Academy alumna Kelly Zhang, who highly recommends the dish.
If you are interested in Korean food, visit the festival's website at www.koreanfestivalhi.com/en/recipes.html.
Leave a Comment
About the Contributor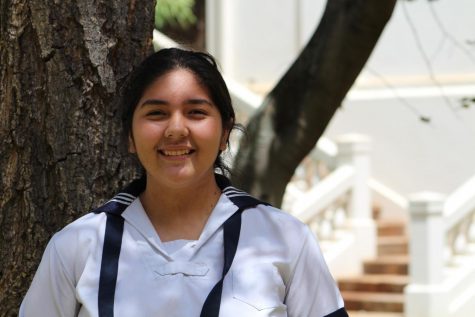 Shelby Mattos, News Editor, Reporter
Shelby Mattos is a senior and third-year Journalism student. She is the Publicity Chair for Division Council and participates actively in the Academy's...