Japanese students experiment with traditional summer kimono
Students in the Japanese III Honors class spent a day learning about yukata, what the Japanese call a summer kimono.
Teacher Nami Grafia said, "We invited 10 Japanese students from Yasuda Women's University to help us with our activities dealing with yukata. We had many yukata which were donated by senior Erica Nishi-Bantolina's grandmother a few years ago. Mrs. Nishi also had the opportunity to visit and observe our class."
Academy students collaborated with the college students who helped explain the clothing. Students learned how to put on the yukata and experimented with them, learning how they restrict movement in daily activities, such as walking, running, sitting on a chair, sitting on the floor or picking up things from the floor.
Senior Ashley Joy Sumibcay said, "Wearing the yukata was really weird. It was stiff. We wore wooden slippers called geta. Walking around in the get-up showed me how graceful women in Japan need to be. Overall, it was a nice experience."
The class will use their findings and observations to discuss how clothing affects the culture and women's roles in Japan.
About the Writer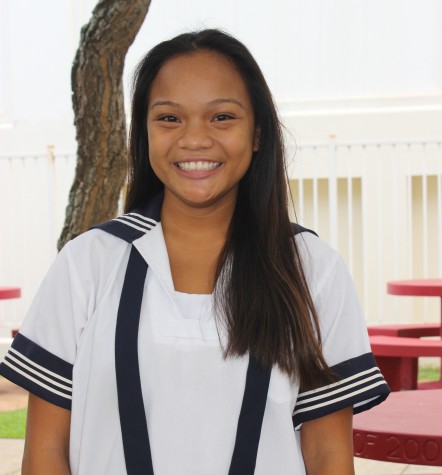 Janelle Medrano, Editor-in-Chief
Janelle Medrano is a senior and a third-year member of the Ka Leo staff. She enjoys dancing, hiking, snorkeling, and pogo-sticking. In her free time, Janelle...