Who knew living on my own would be so much work!
Hang on for a minute...we're trying to find some more stories you might like.
Driving long distances is not pretty.
---
I live in the boonies — otherwise known as Waialua. Its verdant open pastures, the salty ocean air and the constant sound of roosters crowing is exactly how I would describe Waialua. But, as a high school student attending a private school in Honolulu, the reality isn't as pretty. Waking up at 4:30 a.m., commuting a total of 70 miles a day and arriving back home around 5 p.m. is not what I had in mind while attending high school.
This all changed this school year when my little sister joined me at Sacred Hearts Academy as a freshman. I was just beginning my senior year in high school. My family already owned a condo less than ten minutes away from school. It was only then that my parents suggested my sister and I live in our townhouse in Honolulu during the week so that we could easily commute to school instead of driving back and forth to the North Shore every day.
"Are you joking?" is what I constantly asked them because I couldn't picture our living by ourselves in town and having to do grown-up tasks. Before the school year started, I began to dread the thought of doing my own laundry and having to cook my own food. However, it is this experience that has helped me to learn about some responsibilities of adulthood and better prepare me for the future.
Independent living can be demanding.
---
Living in town has taught me to be more independent. It has taught me to do the everyday household activities, including laundry, dishes, taking out trash, vacuuming carpets and preparing meals. It sounds like a lot, but I'm not entirely alone. My sister and I share household chores equally; in the end, we're both learning how not to be so reliant on our parents.
Still, as the older sister, I have the responsibility to look after her and take on the "mom role." I have to make sure that we have something to eat for dinner and have our school lunches prepared for school. I have to make sure that we have clean school uniforms. I have to make sure to set my alarm and wake up early enough to eat breakfast before catching the bus to school or else we miss the bus and are late. (This has happened several times in the beginning of the school year, but that's not the point.) I have a lot to do every day, but it's doable and I think that it has become easier as the school year has continued.
Major drawbacks
---
But let's be real, sometimes living on your own and being independent sucks. For one thing, I didn't know it was possible to get homesick when I was already at home. I miss seeing my parents and grandma every day. I miss watching my parents playfully tease one another or joke about random things during dinner. I miss mom's delicious home-cooked meals. (She has the cooking skills of Bobby Flay, just ask my friends.) And, I miss coming home to the savory smells of grandma's pork guisantes. Everybody knows I'm picky about my Filipino food.
I continue to miss the comfort of my amazing bed in Waialua. I especially miss those daily morning kisses from dad when he leans over my bed in the morning and quietly whispers, "Have a nice day, sweetie" before he leaves for work. There's a whole list of things I miss when I live in my home away from home. When I head to the townhouse after school, I begin to think about what I should eat for dinner. Most kids don't need to worry about that because they have their parents or grandparents to cook for them. Sometimes, I just miss being a normal teen who doesn't have to worry so much about other things except school, such as clean socks or lunch for school the next day.
Less driving time means major involvement in activities
---
These are just some of the big drawbacks, but I never really looked at my actual living situation as a disadvantage because it has presented me with many more opportunities. Last year, I carpooled with a friend from my Waialua home to school and back every day. I spent at least a good three hours each day, sitting in the car doing nothing. This year, however, I saved a lot of time by not commuting back and forth and spent that time participating in clubs and after school activities. Living less than 10 minutes away from school allows me to spend more time doing other activities.
As a National Honor Society member, I spend several hours after school tutoring students and this would have totally interfered with my ride home last year. I'm also on the school's Living In Faith Experience (LIFE) team, a Christian leadership group of 12 seniors who work together during lunch and after school to plan school retreats, monthly masses and paraliturgies. My townhouse is also the go-to place for my friends whenever we are assigned group projects. I live the closest to school, so it's the perfect place to get together. My friends are always welcome at my townhouse, and I'm pretty sure it's their second home, too.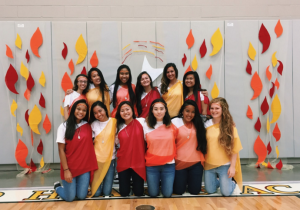 Living in town means participation in school activities, such as the LIFE mass, and free time to enjoy the condo's pool with friends.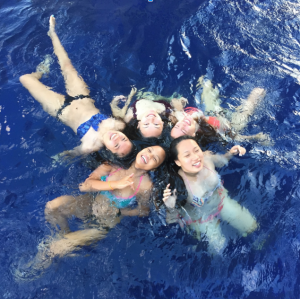 Getting ready to really leave home
---
I think of this experience as a trial run for next year when I head off to college on the mainland. I'm only a few months away from college, and I'll be off and doing the same thing again when I'm living on my own away from my family. However, this time around I will be better prepared, and it won't be such a huge transition for me or my parents.
I consider myself so lucky to be able to live in town during the weekdays and relax in the country on the weekends. I'm very thankful that my parents provided this opportunity for us. Most kids my age would love to live on their own, believing they have greater freedom. Little do they know, however, a ton of responsibilities comes with it. They don't think about how much their lives will change, impacting them for the better or for the worse, depending on how they look at the situation. As for me, I see this situation as a huge positive. It has taught me valuable lessons that I can reflect upon and use as I near adulthood.
About the Writer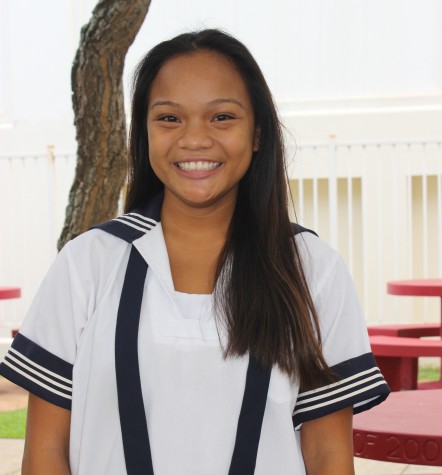 Janelle Medrano, Editor-in-Chief
Janelle Medrano is a senior and a third-year member of the Ka Leo staff. She enjoys dancing, hiking, snorkeling, and pogo-sticking. In her free time, Janelle...