Seniors shine in HPU contest
Hang on for a minute...we're trying to find some more stories you might like.
Seniors Elizabeth Fischer and Wei Yi Huang won four-year scholarships to Hawaii Pacific University (HPU) based on their participation in a scholarship contest to improve Hawaii.
The scholarship, HPUBiz4Good, is awarded to 10 graduating seniors and covers tuition for four years of undergraduate study. Award winners were asked to share ideas and take action for a positive social, environmental or economic impact in Hawaii.
Huang said, "I decided to apply for this scholarship because I wanted to stay in Hawaii for college and because I wanted the chance to take the burden of the cost of college off my parents' shoulders. I'm very happy that I won and I think that this opportunity not only gave me full tuition, but it also proves to me that my ideas have been recognized by the judges and others as valuable."
Over the course of three months, participants shared ideas through Instagram, Facebook and Twitter using the hashtag #HPUBiz4Good. They also attended a workshop to further extend their ideas and improve making their visions for Hawaii clearer.
Fischer said, "My issue revolved around human trafficking, and I had the idea at first to help victims and spread awareness. At the time, my idea was vague and underdeveloped but after I attended the workshop, I decided to create a store that would consist of products that addressed the issue of human trafficking. I thought to give the proceeds that I earned through my store to existing non-profit organizations to help the victims."  
After attending the workshop, students submitted a 2-3 minute pitch video, a written proposal and a resume. At the end, HPU held a final competition where participants presented their ideas to a panel of judges.
Huang said, "I came up with the idea to create an app that can remind and motivate others to put on sunscreen because I found that this is an issue in Hawaii and not many people are aware of how badly sunlight can affect and damage our skin. My app is called SPF alarm and it will be free to download; however, I am still in the process of publishing it because I'm contacting sunscreen companies to allow coupons to be given through my app. Every time you put on sunscreen you will earn two points with the maximum of 20 points a day. These coupons will be the main thing to motivate people to put on sunscreen because the points will continue to add up and you'll earn coupons to buy sunscreen."
Judging for the competition was conducted in two parts. Part I included an evaluation of participants' high school transcripts and test scores (40 percent of overall score),  the pitch video (10 percent), a summary of the proposal (10 percent) and a biography (10 percent). Part II was based on the final presentation to the judges which included an evaluation of participants' creativity and originality (10 percent), feasibility (10 percent) and presentation skills (10 percent).
Fischer said, "I absolutely enjoyed the competition process because it was fun updating my online store and even meeting new people. There were so many participants who had amazing innovative ideas and it is such an honor and a blessing to receive such an award. I thank my amazing family and friends for being so supportive and encouraging me while I was working hard on this project."
Fischer's online store: http://stopdasale.bigcartel.com/
About the Writer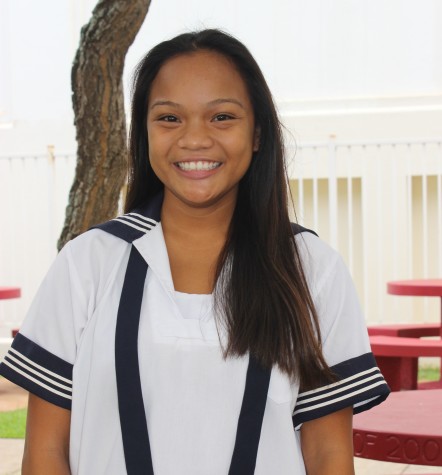 Janelle Medrano, Editor-in-Chief
Janelle Medrano is a senior and a third-year member of the Ka Leo staff. She enjoys dancing, hiking, snorkeling, and pogo-sticking. In her free time, Janelle...