Give a gift of limitless possibilities
Janelle Medrano, Reporter
October 19, 2015
Hang on for a minute...we're trying to find some more stories you might like.
With the holidays around the corner, the Academy Parent Organization is conducting its annual Christmas Gift Card fundraiser which allows families to purchase gift cards for favorite eateries, department stores and shops.
The Gift Card fundraiser encourages families to buy gift cards for everyday purchases. It features favorite clothing and convenient store gift cards from Bath and Body Works, Best Buy, Children's Place, Longs, American Eagle Outfitters, Aeropostale and Office Depot. Gift cards are also available for eateries, including Bubba Gump Shrimp Co., Buca di Beppo, Burger King, California Pizza Kitchen, Macaroni Grill, Ruby Tuesday and Taco Bell.
The amount of each gift card varies from $10 to $100. A percentage of the sale of each card will go towards capital improvement projects on the Academy campus. The donation varies depending on the store, ranging from three to 14 percent.
Students and parents are invited to purchase gift cards through the Academy by completing orders online at http://tinyurl.com/pbxmas15. Within 48 hours, an email confirmation will be sent. The confirmation letter must be printed and returned with payment to the lower or high school office. Checks made payable to Sacred Hearts Academy Parent Board are encouraged; cash will not be accepted. Credit cards are discouraged because of the additional processing fees.
The last day to order is Oct. 19. Pick-up dates will be Nov. 14 from 9 a.m. to 12 noon in the Conference Room and Nov. 18 from 1 to 3:30 p.m at the Student Center.
Lynn and Levin Matsukawa, the chairs of the Gift Card Fundraiser, can be contacted at shagiftcard@gmail.com.
About the Writer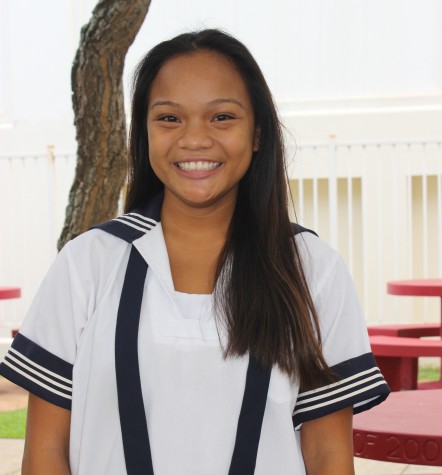 Janelle Medrano, Editor-in-Chief
Janelle Medrano is a senior and a third-year member of the Ka Leo staff. She enjoys dancing, hiking, snorkeling, and pogo-sticking. In her free time, Janelle...